On Twitter, 'Champion of the Constitution' Tops All Candidates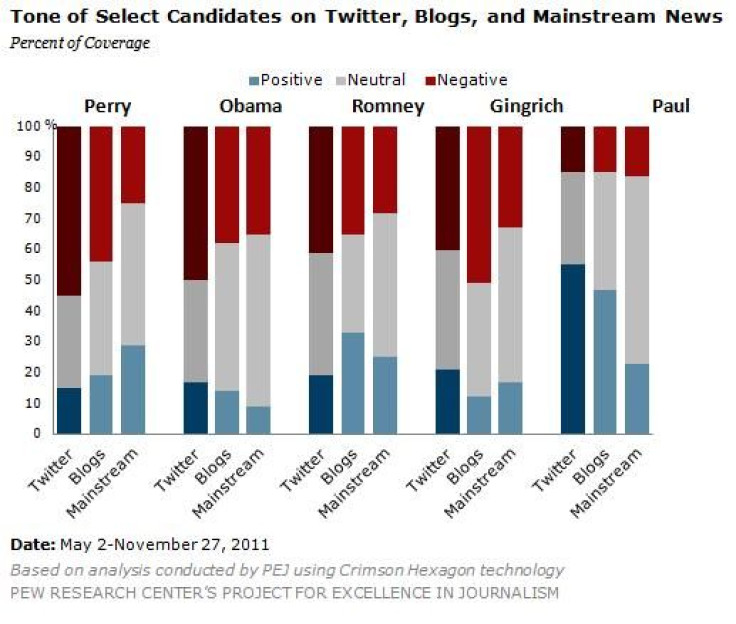 Pew Research Center's Project for Excellence in Journalism (PEJ) is taking a new age approach to gauging candidate favorability heading into the 2012 presidential election.
Results of a recent study show a significantly different political discussion taking place on Twitter compared to mainstream media and even blogs.
Comments on Twitter are "more voluminous, more fluid and even less neutral," according to the study that examined campaign coverage and the online conversation from May 2-November 27, including 20 million Tweets about the race for president. The number of statements about candidates on Twitter outweighed those on blogs by a factor of more than 9 to 1.
According to PEJ's results, the oldest GOP candidate for the 2012 presidential nomination is also the most popular in the new world of Twitter, with 55 percent of comments about Texas congressman Ron Paul positive - the highest of any candidate. Meanwhile, 15 percent have been negative-the lowest percentage of any candidate. That's a differential for Paul of 40 points on the positive side.
"While he trails significantly in the polls, and has received less coverage than every Republican candidate except Rick Santorum from news outlets, Paul seems to have struck a chord with some cohort in social media," states the PEJ report.
Mitt Romney, Herman Cain and Rick Perry have experienced their most negative assessments on Twitter over the past eight weeks. Newt Gingrich saw his first week of more positive than negative comments starting October 24.
In the blogosphere, since May only one candidate other than Paul – Cain - has received more positive than negative coverage. The most discussed GOP contender in the blogosphere has been Romney, but the tone has been mixed, with 33 percent of the conversation positive and 35 percent negative.
PEJ admits that it is impossible to know if the blog sample is capturing the entirety of the political blog conversation, as it is captured on Twitter. The blog sample include all the blogs that enjoy broad traffic and that are tracked by the major blog monitoring services. Data from the Pew Internet & American Life Project shows that a slightly higher percentage of adult internet users say they blog (14 percent) than use Twitter (13 percent).
The work is part of a new ongoing analysis of the race for president conducted by PEJ that will continue through the election, tracking the amount of attention paid to the candidates in different media platforms and the tone of that attention. The research combines PEJ's traditional ongoing weekly content analysis conducted by human researchers with computer algorithmic technology developed by the company Crimson Hexagon.
Published by Medicaldaily.com