Twitter Launches Emergency Alert System: FEMA, American Red Cross Among Partners For New Notification Feature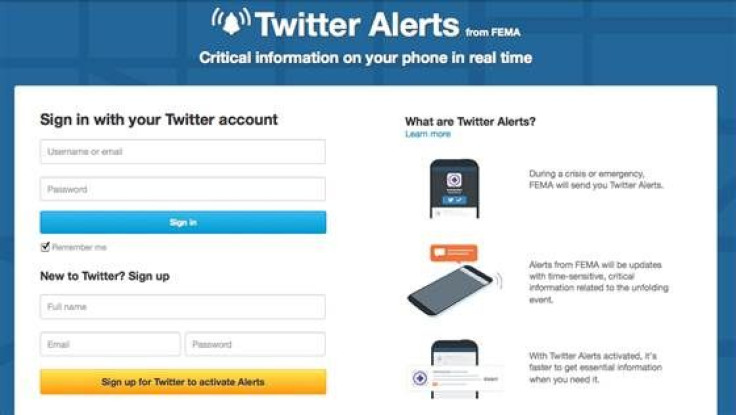 Twitter announced Wednesday that it launched Twitter Alerts, a feature that will provide its users with up-to-date, accurate information about emergencies, natural disasters, and times when communication services aren't available. The social media app partnered with more than 100 non-governmental organizations and government agencies to facilitate the dissemination of important emergency information.
"We know from our users how important it is to be able to receive reliable information during these times," wrote Gaby Pena, Twitter product manager. "With that in mind, last year we announced Lifeline (a feature that helps Japanese users find emergency accounts during crises), and since then, we've been working on a related feature for people around the world."
Here's how it works. In order to sign up for alerts, you have to go directly to an organization's setup page and subscribe to get notifications. The URL for every agency's alert page will be twitter.com/[name of organization]/alerts. The alerts will then appear in your Twitter timeline or, if you don't have the app open, will appear as an alert on your mobile device.
"Today we have a two-way street — residents are informed about hazards in real time and emergency managers receive immediate feedback on the consequences of a disaster," said Craig Fugate, an administrator for the U.S. Federal Emergency Management Agency (FEMA).
The American Red Cross, Centers for Disease Control and Prevention (CDC), U.S. Dept. of Homeland Security, and FEMA are among Twitter Alerts' participating organizations. Japanese and Korean organizations are also participating in the service. Organizations who have not yet signed up, but would like to participate, can fill out an enrollment form online.
"Twitter Alerts is a new way to get accurate and important information when you need it most," said Pena.
For a complete list of participating organizations, click here.
Published by Medicaldaily.com