Tyson Foods Recall 2014: Company Pulls 33,000 Pounds Of Chicken Over Alleged Salmonella Contamination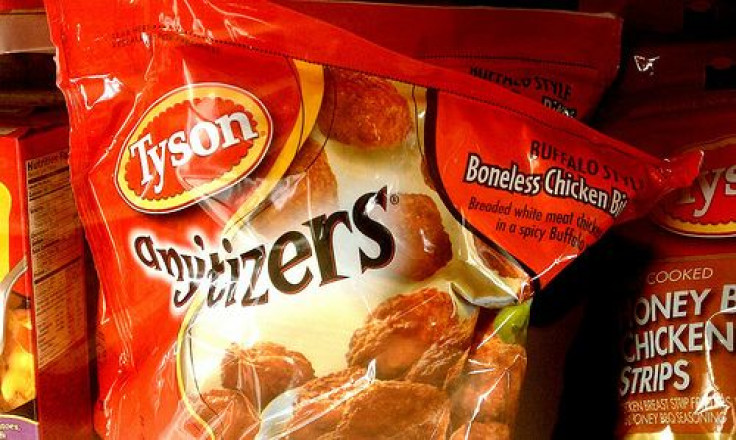 Tyson Foods, the world's second largest processor and marketer of chicken, beef, and pork, has made its first recall of 2014, as more than 33,000 lbs. of mechanically separated chicken products shipped nationwide were shipped back to the company's headquarters. Officials feared a contamination of Salmonella Heidelberg, according to a Friday announcement from the U.S Department of Agriculture (USDA).
The tainted poultry never reached retail stores, the agency announced in its press release. Instead, the USDA has been working with the Tennessee Department of Health to resolve the matter, as the chicken products were shipped to a correctional facility in the state — where seven inmates had reportedly fallen ill as a result of the contaminated chicken. Two of the inmates were taken to hospitals.
The most common result of Salmonella is the foodborne disease salmonellosis, which can last anywhere from four to seven days depending on the bacteria's concentration and the strength of the person's immune system. Symptoms typically arise within 12 to 72 hours and can include abdominal cramps, nausea, vomiting, diarrhea, and the occasional headache and sense of fatigue. Children and the elderly are more at risk of developing severe illness from the disease due to their weakened immune systems.
The USDA estimates the illness arose between Nov. 29, 2013 and Dec. 5, 2013. It also urges consumers to confirm their poultry is cooked through to an internal temperature of 165 degrees Fahrenheit with the use of a food thermometer. Any lower and the person faces a risk of not fully killing the harmful bacteria that resides inside the meat.
Consumers with questions about the recall should contact Tyson Foods' consumer relations department at 866-886-8456, the USDA announced.
Published by Medicaldaily.com