Tyson Recall: 75,000 Frozen Chicken Nuggets Recalled After 'Foreign Matter,' Plastic Discovered In Meat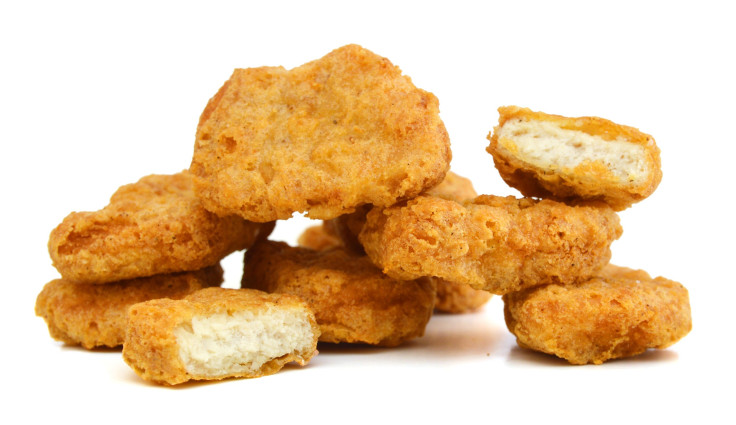 Some 75,000 Tyson chicken nuggets have been recalled after reports of finding the meat contaminated with "foreign matter."
Tyson Foods Inc. has announced that it is recalling the 5 lb. bags of frozen chicken meat that have been sold throughout Sam's Club locations across the nation. Only nuggets sold in the 5 lb. bags are under scrutiny; ones that are sold in smaller packages will not be recalled.
After receiving complaints of small pieces of plastic in the nuggets — as well as the report of a minor mouth injury after someone ate a nugget — the firm decided to recall the products. According to the company, the contaminated nuggets were produced on two days at one particular production plant. The U.S. Department of Agriculture (USDA) reported that a product scraper inside a blending machine caused the plastic to get stuck in the meat.
Several months ago, Tyson Foods Inc. recalled over 33,000 pounds of "mechanically separated" chicken products after a Salmonella scare. This particular product was not sold in consumer markets across the nation, however. Another recent Salmonella outbreak occurred at Foster Farms, which sickened over 400 people in 23 states. Foster Farms, however, did not recall the chicken; they claimed that the people got sick because they didn't cook the chicken properly.
Along with the 5 lb. bags of frozen, white meat, fully-cooked chicken nuggets, Tyson will be recalling 40 cases of Spare Tire brand fully-cooked nugget-shaped chicken breast pattie fritters with rib meat (Item # 16142-861, sold in 20 lb. bulk cases).
The product identifiers for "Tyson Fully Cooked White Meat Chicken Nuggets" are below:
UPC: 0-23700-02178 6 or 300-23700-02178 7
Item # 16142-928
Manufacturer's Code: 0264SDL0315 through 0319 or 0474SDL0311 through 0314
"Best if used by" dates of Jan 26, 2015 or Feb 16, 2015
Published by Medicaldaily.com