Ugandan Police Detain AIDS Research Project Staffer Suspected Of Promoting Homosexuality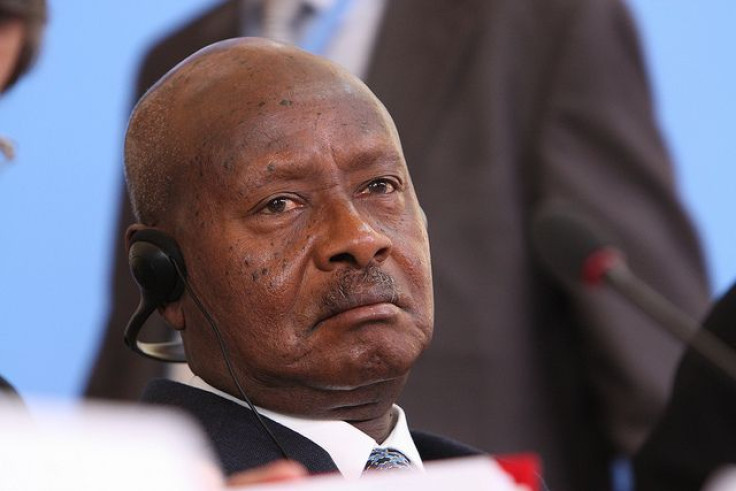 A U.S. funded health project has temporarily ceased operations after a member of staff was arrested for suspicion of involvement in and promotion of gay activities. Although the staff member has been released on bond, the project's office in Kampala has shut for the time being, in order to ensure the safety of the other workers. Homosexuality is banned in the African country and this arrest comes two months after the Ugandan President Yoweri Museveni signed a law to enforce stricter punishments for acts of gay and lesbian sex.
The U.S.-funded health project conducts important research in Ebola, Marburg disease, and HIV. It has been in operation since 2002 and their main goal is to develop a vaccine for these viruses. According to Yahoo Health, a Ugandan member of staff was taken into custody by police at the project's offices in Kampala. The man was questioned and released on bond on the same day. The project is funded by the President's Emergency Plan for AIDS Relief and costs $9.4 million each year. It announced that the suspension would last until there is "greater clarity as to the legal basis for the police action," to protect other members of staff. According to police spokesperson Ibn Ssekumbi, law officials had been following the individual for several days after receiving reports that he was involved in gay activities. "For some time we have been following an individual whom we learned has been conducting and training activities related to homosexuality," Sskumbi explained, as reported by Yahoo. Although the individual was not charged as of yet, an investigation is currently being conducted into the suspect's alleged acts.
In February, Ugandan President Museveni signed a law that enforced stricter punishment for anyone caught having gay or lesbian sex. CNN reported that punishments could include lifelong jail terms for committing homosexual acts as well as "aggravated homosexuality," which includes having sex with a minor or having sex while HIV positive. The new legislature is has faced a whirlwind of international criticism. The White House issued a statement in February clarifying their stance on Uganda's criminalization of homosexuality. "We will continue to urge the Ugandan government to repeal this abhorrent law and to advocate for the protection of the universal human rights of the LGBT persons in Uganda and around the world," the statement read, according to CNN. Lawmakers in Uganda believe that the influence of Western lifestyles is in danger of destroying the Ugandan family unit. "Respect African societies and their values. If you don't agree, just keep quiet. Let us manage our society, then we will see. If we are wrong, we shall find it by ourselves, just the way we don't interfere with yours," Museveni told CNN in response to the international criticism. In a rally on Monday he incited a crowd by claiming that the West wanted to impose social imperialism on Africa and the Uganda could live without humanitarian aid.
After the passing of Uganda's Anti-Homosexuality Bill, many gay Ugandans fled the country in fear for their lives. "I have to keep running to save my life, but my hope is that some day I will be able to live as a Ugandan and claim my right back as a Ugandan," Danie, a gay Ugandan refugee applying for asylum in the U.S., told the BBC.
Published by Medicaldaily.com