UK Porn Ban: Adult Entertainment Banned From Showing Certain Sexual Acts Like Choking And Female Ejaculation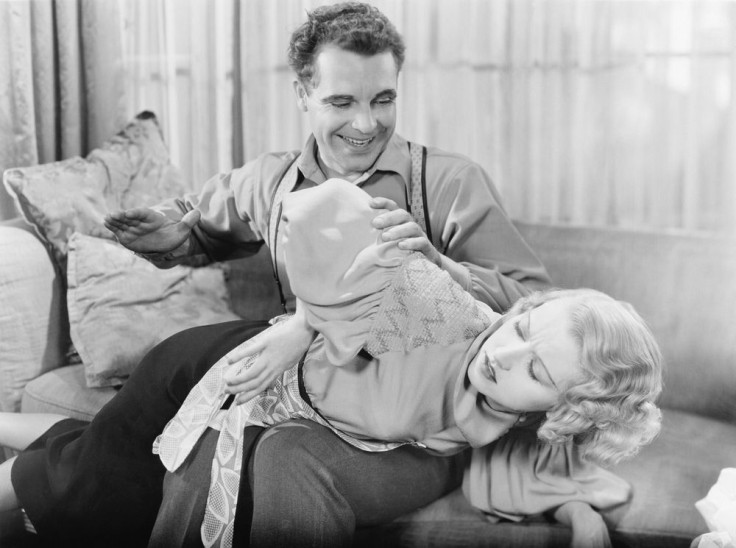 An amendment to the United Kingdom's 2003 Communications Act has led to quite a bit of uproar among people working in the British adult entertainment industry. The British Board of Film Censors (BBFC) laid out guidelines for the Audiovisual Media Services Regulations 2014, which went into effect this past Monday, and has banned a laundry list of sexual acts that are popularly depicted in pornography all over the world.
"The legislation provides the same level of protection to the online world that exists on the high street in relation to the sale of physical DVDs," a representative for the UK's Department for Culture, Media, and Sport told The Independent. "In a converging media world these provisions must be coherent, and the BBFC classification regime is a tried-and-tested system of what content is regarded as harmful for minors."
This list of sexual acts British porn producers are no longer allowed to depict in video-on-demand online porn includes spanking, caning, aggressive whipping; penetration by an object "associated with violence"; physical or verbal abuse; urolagnia, which is also known as "water sports"; role-playing as non-adults, physical restraint, humiliation, and female ejaculation. Strangulation, facesitting, and fisting have also been banned by the BBFC's standards and are considered "potentially life-endangering."
Critics of the BBFC's R18 certificate point out that viewers can still seek out depictions of the newly banned sex acts in the UK by perusing other avenues for porn, such as videos shot in the United States. They have also drawn attention to the fact that a good number of the sex acts listed by the BBFC bring about pleasure mainly for women.
In an op-ed published by The Independent, award-winning erotic film director Erika Lust explained that the BBFC's new restrictions will only hinder porn's move from a male dominated industry to one that also takes female pleasure into account. According to Lust, these restrictions will also fail to achieve their intended purpose: To limit children's exposure to violent and degrading content in porn. Instead, she said the inaccessibility of certain porn content will only make it more appealing to curious kids.
"With this legislation, the UK is in danger of finding itself back in an age where porn is simply the boring, unrealistic, male fantasy of bimbos eagerly pleasing men as if it is their duty, where women are submissive and lack ownership of their sexuality," Lust explained. "Women in the industry will now fear the loss of their livelihoods as well as their sexual independence."
These new limitations for the porn industry are not the first to be proposed in the UK. Back in 2012, child safety organizations in the UK, including the National Society for the Prevention of Cruelty to Children, proposed an automatic block on internet access to pornography for all computers. Over 3,500 survey respondents were asked how their internet service providers (ISP) should go about limiting access to online pornography.
Although the proposal was ultimately rejected by lawmakers after only 35 percent of respondents backed an automatic block on internet porn access, and 15 percent would rather content be filtered or have the option to block, activists said the proposal was "a step in the right direction in making the internet safer for children."
Published by Medicaldaily.com