Ulcerative Colitis: Simponi Injection Approved by FDA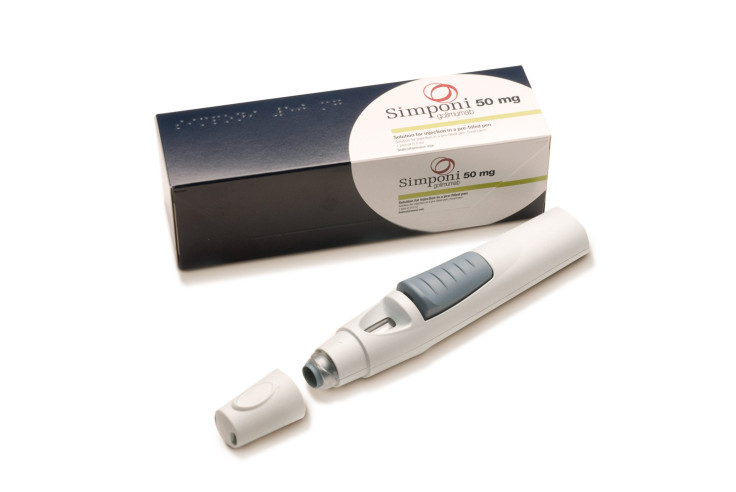 The U.S. Food and Drug Administration today approved a new use for injections of Simponi, generic name golimumab, in the treatment of certain cases of ulcerative colitis.
Simponi has been approved to treat adults with moderate to severe ulcerative colitis that is resistant to prior treatment or requires continuous steroid therapy.
Ulcerative colitis, a chronic disease that affects about 620,000 Americans, causes inflammation of the ulcers in the inner lining of the large intestine. It is one of the two main forms of inflammatory bowel disease, and can lead to abdominal discomfort, gastrointestinal bleeding, production of pus, and diarrhea. Symptoms of the disease may lead to lack of appetite, weight loss, and fatigue.
People are most commonly diagnosed with ulcerative colitis in their mid-30s, but the disease can occur at any age. The disease is chronic and there is no cure.
Ulcerative colitis results from an abnormal response of the body's immune system, when it misrecognizes food particles in the large intestine and they trigger an immune response. Researchers are uncertain as to the disease's ultimate cause, but surmise it is the combination of interrelated factors including genetics, the immune system, and substances in the environment.
"Simponi is an important new treatment option for patients with moderate to severe ulcerative colitis," said Andrew Mulberg, deputy director of the Division of Gastroenterology and Inborn Errors Products in the FDA's Center for Drug Evaluation and Research. "It is critical that patients suffering from the serious and painful symptoms of ulcerative colitis have additional treatment options since patients experience the effects of the disease and respond to treatments differently."
Simponi works by blocking tumor necrosis factor (TNF), a cytokine or signaling molecule. TNF plays an important role in causing the abnormal inflammatory and immune responses involved in ulcerative colitis.
The Simponi treatment regimen consists of an initial 200 mg subcutaneously injection, followed by 100 mg two weeks later, and then thereafter 100 mg every four weeks, according to its marketer, Janssen Ortho Biotech, Inc., based in Horsham, Pennsylvania.
Before the recent FDA approval expanding Simponi treatment to include ulcerative colitis, Simponi was used in the treatment of rheumatoid arthritis, psoriatic arthritis, and ankylosing spondylitis, which is arthritis that affects the joints in the spine and pelvis.
Two clinical studies established the safety and efficacy of the new use for Simponi injections.
The first study involved the administration of either Simponi or a placebo to 513 patients with moderate to severe ulcerative colitis who could not tolerate or failed to respond to other therapies. Patients taking Simponi showed greater clinical response, clinical remission, and endoscopy revealed that the appearance of the colon had improved after six weeks, as compared with the placebo group.
A second study took patients with moderate to severe ulcerative colitis who responded to Simponi, and either continued administering Simponi, or switched to a placebo. The patients who continued receiving Simponi fared better than the placebo group, by maintaining clinical response through week 54, and by having remission at week 30 and week 54.
The most common side effects were upper respiratory infection and redness at the site of injection. Additionally, patients taking Simponi were found to be at increased risk of serious infections, invasive fungal infections, reactivation of Hepatitis B infection, lymphoma, heart failure, nervous system disorders, and allergic reactions.
"The approval of SIMPONI for the treatment of UC is a notable milestone for adults living with this chronic, devastating disease for which there is no cure," said Cindy Guzzo, Vice President, Medical Affairs, Janssen Biotech, Inc. "As leaders in the treatment of IBD for more than a decade, we are proud to offer a new subcutaneous treatment option to patients and healthcare providers where unmet need continues to exist."
For more information about ulcerative colitis, visit the following websites.
1. Crohn's & Colitis Foundation of America. What is Ulcerative Colitis?
2. Crohn's & Colitis Foundation of America. Colitis Treatment Options.
Published by Medicaldaily.com