UN Hails Progress On Ebola As New Weekly Cases Fall Below 20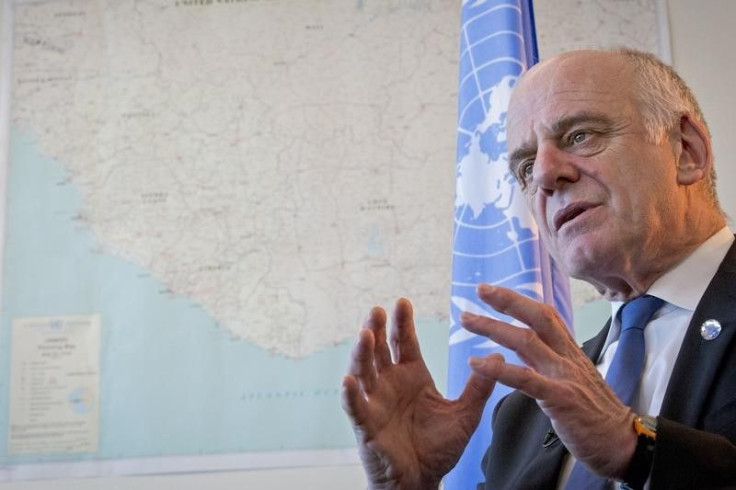 DAKAR (Reuters) - The U.N. envoy on Ebola on Tuesday hailed "extraordinary progress" against the outbreak in West Africa after new cases last week fell below 20 for the first time since mid-2014, but he warned it would take time to end the epidemic completely.
David Nabarro said that in the week to May 3 only nine new cases were reported in Guinea and the same number in neighboring Sierra Leone. Liberia once again had no new cases.
Nabarro said he was optimistic that Liberia would be declared Ebola-free on May 9, when it is due to reach the official World Health Organization (WHO) standard of 42 days without a new Ebola case. That period marks twice the maximum official incubation period for the deadly hemorrhagic virus.
"This is extraordinary progress. For those of us involved in this, we have got used to having good news one week, bad news the next, so we are not starting to celebrate yet, but we are feeling positive," Nabarro told a news conference in Dakar.
The WHO said in its latest update on Tuesday that the world's worst recorded Ebola outbreak - which erupted in remote southeastern Guinea in December 2013 - had killed a total of 10,980 people and infected more than 26,500.
Nabarro said the share of new cases which have come into contact with previous identified Ebola victims - a key marker of how well health officials have isolated the epidemic - now exceeded 50 percent and was headed towards 75 percent.
"We are moving towards the end, but we just don't know when it will come. In Liberia it took a long time - it took about two months to move from single-figure cases to zero - so we are not anticipating that this will be a very rapid thing," he said.
"That's why I am telling everyone ... don't turn away, don't let off the effort: we must finish it and finish it well."
The U.N. mission for Ebola Emergency Response, established in September, is due to wind up at the end of July and Nabarro said its responsibilities would be handed over to other agencies of the United Nations.
(Reporting by Daniel Flynn; Editing by Larry King)
Published by Medicaldaily.com