UN: Haiti Struggling to Cope With Cholera as Aid Withdrawn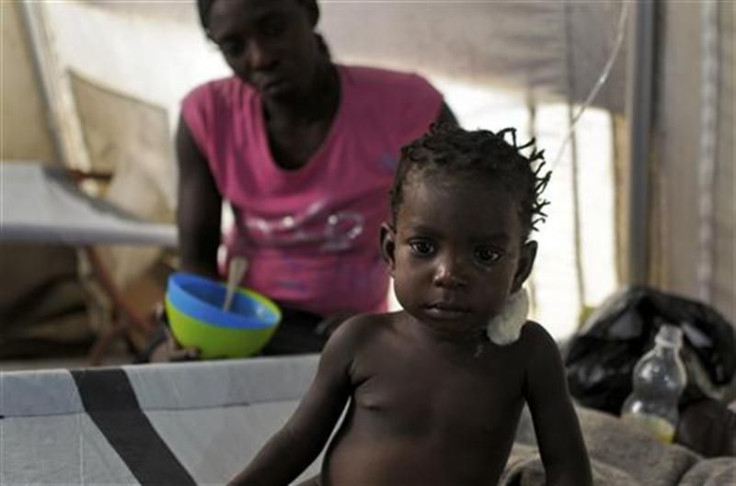 U.N. chief Ban Ki-moon warned on Friday that Haiti was struggling to cope with a cholera epidemic that has killed thousands and deteriorating conditions in tent camps as aid groups withdraw from the impoverished country due to a lack of funding.
In a report to the U.N. Security Council, Ban said there had been an increase in the number of cholera cases since the rainy season began in early March and the World Health Organization had projected there could be up to 112,000 cases during 2012.
The cholera outbreak has sickened almost 600,000 people and killed more than 7,400 in the Caribbean nation since October 2010. Some Haitians accused Nepalese U.N. troops of sparking the epidemic after their camp latrines contaminated a river.
"The resurgence of the cholera outbreak is particularly worrying since non-governmental organizations which responded at the beginning of the epidemic are phasing out due to lack of funding," Ban said.
"As a consequence, the support for the transfer of responsibilities to the Health Ministry, as foreseen in the national strategy, has decreased, as has the capacity for the effective treatment of cholera cases," he said.
Cholera is an infection that causes severe diarrhea and can lead to dehydration and death. It occurs in places with poor sanitation and can be treated by drinking clean fluids.
Haiti is still struggling to lift itself from the rubble left by an earthquake in January 2010 that killed about 300,000 people and left more than 1.5 million homeless.
CUT TO PEACEKEEPERS
Ban said more than 390,000 people were still living in camps.
"Living conditions in the camps have deteriorated as humanitarian actors progressively withdraw due, among other reasons, to lack of funding," the secretary-general said.
"Haitians living in camps where sanitation standards are inadequate are extremely vulnerable to natural hazards as well as to acute diarrheal infections and cholera," he said. "Over 230,000 internally displaced persons are projected to still be living in camps by the end of 2012."
He said that by March 2012, only half the $5.50 billion pledged by the international community at a fundraising conference in 2010 had been spent.
Ban recommended that the Security Council extend a U.N. peacekeeping force in Haiti for a further year, but that the number of authorized troops and police be reduced by 1,710 to 8,871. There are now some 10,000 peacekeepers in Haiti and Ban suggested a gradual drawdown be completed by June 2013.
U.N. peacekeepers are gradually handing over security responsibility to the Haitian National Police.
The force, known as the United Nations Stabilization Mission in Haiti, or MINUSTAH, was established in 2004 and has been helping Haiti's short-staffed and ill-equipped police maintain security, especially during elections plagued by fraud and unrest. The force size was increased after the earthquake.
The force's activities would be further narrowed to core tasks achievable with a reasonable time "aimed at consolidating stabilization gains to a point beyond which the presence of a large peacekeeping operation will no longer be required," Ban said.
@ 2012 Thomson Reuters. All rights reserved.