Uncomfortable Talking To People With Disabilities? This Organization Uses Humor To Change Attitudes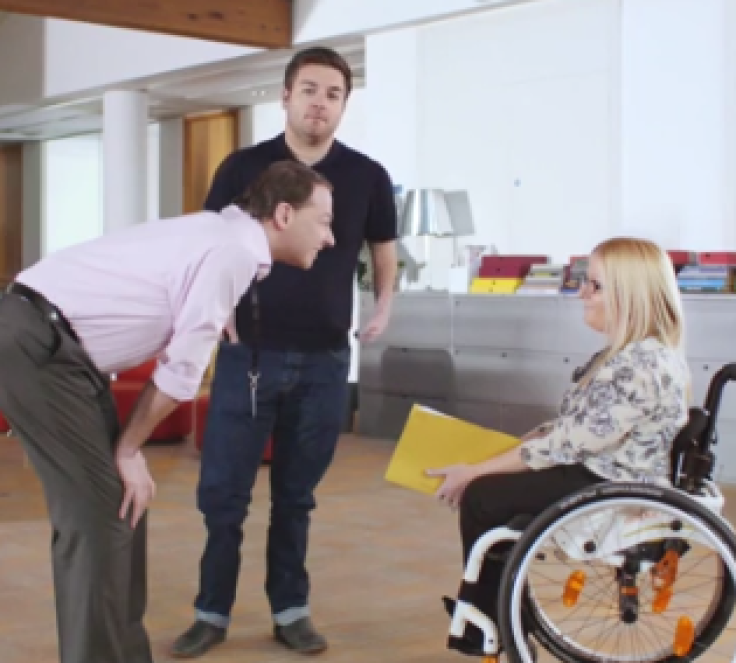 Society has a long history of mistreating disabled people. Still, even though society has progressed with events such as the Special Olympics, individuals' attitudes toward people with handicaps have remained the same: hesitant and fearful. A recent study shows that two-thirds of Brits admit to feeling "uncomfortable" when talking to a disabled person. In fact, the problem seems to be worse than ever before, as millennials are more than twice as likely as older people to feel awkward around disabled people. A British organization is attempting to using humor to change attitudes toward disability, one person at a time.
Scope is a nonprofit British organization aiming to help create equality for disabled people. It recently revealed results from its study on the British public's attitudes toward disabled people. The study showed that an alarming 66 percent of Brits feel uncomfortable around the disabled. The Daily Mail reports that this discomfort comes from a fear of appearing patronizing or saying the wrong thing.
The survey also revealed that this feeling pushed one-fifth of millennials to completely avoid talking to a disabled person. Although nearly half of the British public claimed to not personally know anyone who is disabled, a third of the group felt that getting to know someone in a wheelchair or an amputee would give them more confidence when meeting the disabled.
Scope's newest campaign uses comedy to address the not-so-funny issue of respect for the disabled. The campaign's spokesman, Alex Brooker, is disabled himself and uses a prosthetic leg and arm. Brooker is able to combine comedy with education in his attempt to show people the best way to treat those with disabilities.
"I don't think people are awkward because they don't care or because they're ignorant—it's completely the opposite. People can become quite awkward because they do care and they don't want to make someone feel conscious about themselves." Brooker explained to Metro UK.
Poor treatment of disabled people is visible throughout human history. In some cultures, such as those in China, disability is viewed as a punishment for either personal or family sins. In the Bible, disability is sometimes portrayed as a curse, resulting from disobedience, unbelief, and ignorance. Before the onset of modern medicine, the disabled were often considered ill. These people were stigmatized and isolated from society.
A better understanding throughout time has led to improved treatment, but individuals' personal opinions remain difficult to shift. What's so innovative about the Scope campaign is that it doesn't try and tackle society's beliefs as a whole, but rather works on a more personal level.
"We've launched this campaign to get us all thinking about what we can do to include disabled people more in our lives," Richard Hawkes, Scope's CEO explained, the Daily Mail reported. "I don't see anything wrong with being curious … It's just about getting past that and feeling confident because a disability is only a part of who someone is, I think."
Published by Medicaldaily.com