Unhappy Meal: Outraged Maryland Mom Served Free Weed With French Fries At Sonic Drive-Thru
A Maryland mom and her kids received an extra side with her order of French fries: a bag of free weed. Thirty-five-year-old Carla McFarland and her children, ages 6 and 8, went to a Sonic drive-thru after a trip to the library and a morning spent packing boxes, when she reached into her bag for food and found a small green plastic bag of pot. The furious mom quickly took to Facebook to express her disgust and fears over the possibility it could have been ingested by one of her kids.
The mom admitted to doing three double takes until her worst fears were confirmed when she discovered the bag of pot in her order. McFarland immediately contacted Sonic's management and called the police. "After getting my food free, telling them to remake my order, the employee admits its hers, is fired on spot and I call police. Her punishment? nothing but her lost job. Furious ! Still in shock ! Great hands-on drug lesson for kids..... I guess," McFarland wrote on her Facebook page.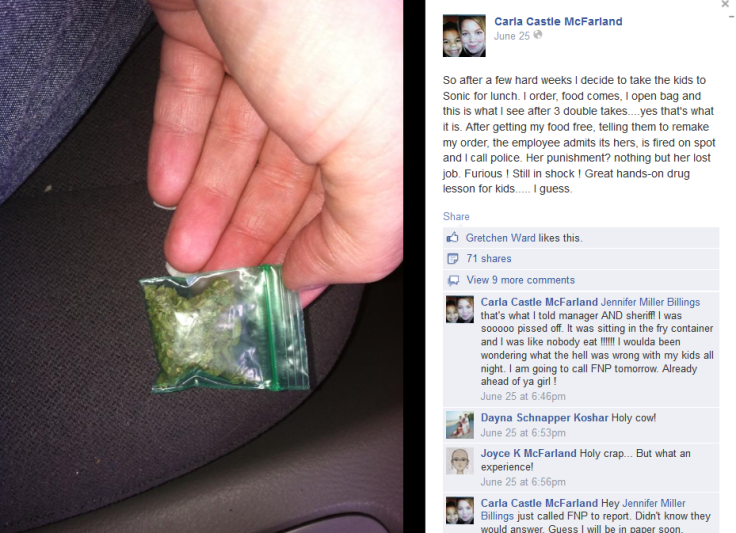 John Louderback, a franchisee who operates the family drive-in chain in Frederick County, confirmed to The Frederick News-Post, the unnamed female employee no longer works there. She admitted to the possession of marijuana, saying it most likely slipped from her apron. Louderback admits the incident is still under investigation. "As this time, we believe that concludes the issue," he told the paper. However, the franchisee did not comment about drug-testing policies involving employees.
McFarland acknowledges the fast food chain was "more in shock" than she was, as they were very apologetic and remade her meal free of charge. "I definitely can't say that they didn't go out of their way," McFarland said, Yahoo! News reported. "I honestly think they were more in shock than I was."
As the mother sat in shock, she kept wondering, "[W]hat if my kids had eaten it?" These concerns come at a time when marijuana legalization is slowly making strides throughout the U.S.
With the legalization of pot, the concerns over child-proofing the drug are rising. According to the National Poison Data System, calls regarding the accidental indigestion of marijuana in children ages 9 and younger have more than tripled in states that have legalized it in some form before 2005. Calls have risen about 11.5 percent per year in states that have legalized marijuana from 2005 to 2011.
Pot ingestion in children can have a considerable amount of neurological effects. The drug can damage developing brains, specifically those of adolescence where the brain continues to develop well into the twenties. The brain is also at risk for not forming normally since marijuana can interfere with the process of brain development. A recent study published in The Journal of Neuroscience found teens who smoked pot daily for about three years performed poorly on memory tasks — two years after they stopped smoking. The structures in the brain responsible for memory were found to shrink and collapse inward among younger smokers.
McFarland, like any concerned parent, doesn't believe her situation is a laughing matter, despite getting laughs from some friends who were amused by the unusual turn of events. "I think that's why everyone thinks it's so funny, because it's marijuana and it's going to be legalized," McFarland said. "It could have been crack. It could have been cocaine in that little baggie."
Published by Medicaldaily.com