Unhealthiest Chain Restaurant Items: Nearly 3,000-Calorie Burger Among The Biggest Losers Of The 'Xtreme Eating Awards'
Uno Pizzeria & Grill's Whole Hog Burger will never win the Nobel prize, but it has earned the ignoble achievement of being one of the unhealthier menu items you can order from a chain restaurant, coming in at a whopping 2,850 calories with fries and onion rings included.
The nonprofit Center for Science in the Public Interest (CSPI) recently unveiled the nine recipients of its 2016 Xtreme Eating Awards, with the Whole Hog Burger making an especially big splash. Gaudy as that figure may appear, the organization noted that the winners are only a symptom of a much bigger problem within the restaurant industry.
"Unfortunately, these extreme meals are more like the rule, not the exception," said CSPI dietitian Lindsay Moyer in a statement. "America's restaurant chains are serving up meals that seem engineered to promote diabetes, obesity, heart disease, and strokes. The 3,000-calorie burger platters of today make McDonald's Quarter Pounders look like sliders."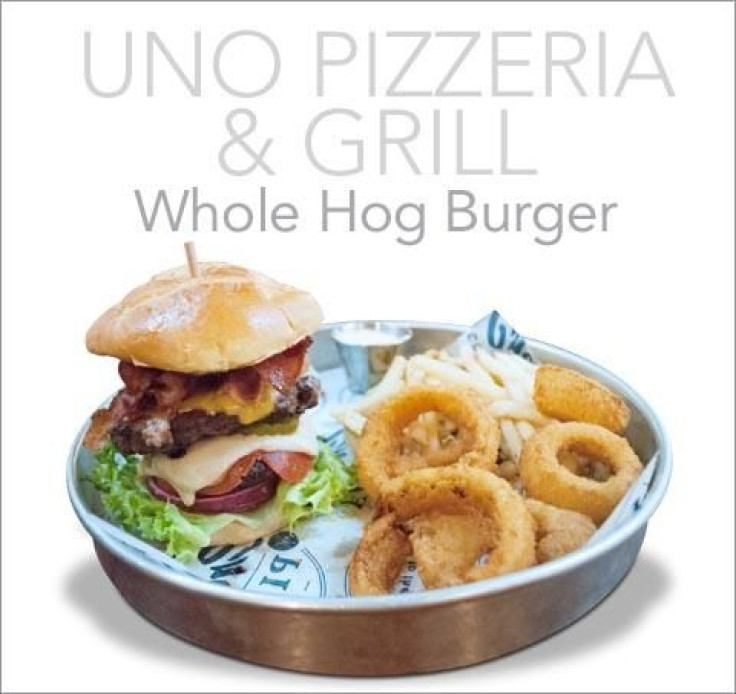 Other chartbusters include Applebee's Build Your Sampler plate, which allows customers to pick and choose up to 5 different appetizers. Pick the 5 juiciest ones, like the Cheeseburger Egg Rolls, and you'll end up with 3,390 calories, 65 grams of saturated fat, and 11,650 milligrams of sodium. There's also the Fried Chicken & Waffles Benedict offered by The Cheesecake Factory, which comes out to 2,580 calories with a side of breakfast potatoes included. And for strictly liquid fans, you can turn to Sonic's RT 44 Grape Slush with Rainbow Candy, at 970 calories.
The CSPI has fought for mandatory calorie-labeling laws at these chain restaurants for over a decade, in hopes of steering people away from the worst offenders. They finally succeeded in 2014 when the Food and Drug Administration declared that restaurants with more than 20 locations would be forced to display calorie labels next to their items. The rule, however, will not go in effect until May of 2017, after having been previously postponed to this upcoming December.
Given the country's ongoing rise in the obesity rate, especially among children, it's tough to swallow these admittedly enticing meals as anything other than part of the problem.
Take a look at the other "winners" here as well as tips to healthy restaurant eating here.
Published by Medicaldaily.com