US Adult Smoking Rate Drops To 18 Percent: Are Graphic Anti-Smoking Campaigns Getting Results?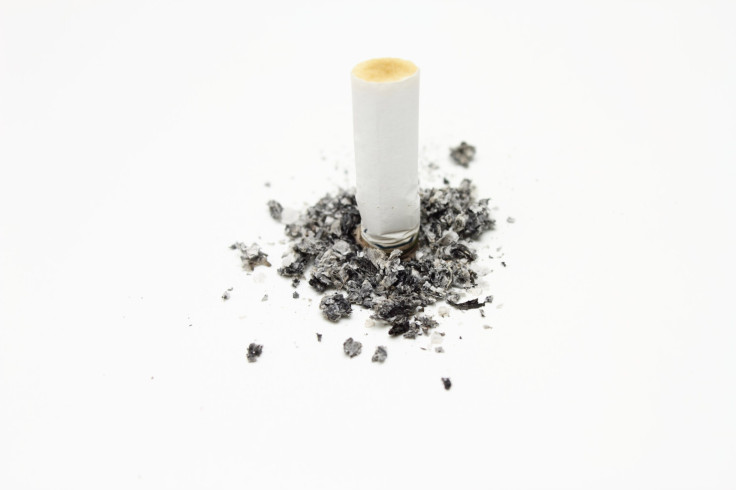 The smoking rate decrease is nothing new to the United States; the nation has been seeing a decline for the past seven years. But when the Centers for Disease Control and Prevention (CDC) released its findings Tuesday, revealing a drop in the nation's smoking rate, health officials weren't quite able to provide a conclusive reason.
The national smoking break was a welcomed finding by anti-smoking organizations, who have been recording and comparing data since the early 60s. When compared to the year 1965, during which 42.4 percent of Americans surveyed labeled themselves as smokers, the trend has been moving in the right direction considering the health risks from smoking.
According to the CDC, smoking accounts for more than 440,000 deaths every year, which translates to one out of every five deaths due to smoking. Smoking is the leading cause of preventable deaths in the United States today. The road to these avoidable deaths frequently begins during teenage years and forms a habit by the mid-twenties. In fact, according to the 2012 Surgeon General's Report, a large majority of smokers begin before age 25, with almost nine out of 10 adult smokers starting at age 18 and almost 100 percent by age 26.
Last year, the CDC took charge and launched a graphic advertising campaign in order to stimulate the stalled smoking rate of 20 percent. It was the Center's largest and most controversial anti-smoking campaign, which showed graphic photos, horrific stories, and some of the heartbreaking fates of smokers through public service announcements primarily on radio and television.
The campaign triggered 200,000 additional calls-to-quit lines, and CDC officials projected thousands more decided quit. Another round of similar campaign ads was circulated early this year.
Not only did campaign ads startle television viewers with the harshness of their reality, but they were also archived on the CDC's website. "Bill's Story," among 20 others, are available with a biography and video piece under "Tips From Former Smokers." Bill has diabetes, an amputated leg, blindness in one eye, and has experienced kidney failure — all connected to his smoking addition. "When I was 15, I started smoking. It was a stupid thing I wish I could take back," Bill says in his video and blurb.
Smoking is the cause of respiratory and cardiovascular diseases as well as cancers, and according to the CDC, adults who smoke cigarettes die an average of 14 years earlier than nonsmokers. The CDC defines a current smoker by someone who smokes at least 100 cigarettes during their lifetime and report currently smoking some or every day.
The Executive Director of the Foundation for a SmokeFree America, Patrick Reynolds, told the Associated Press, "This is a real decline in smoking in America. I'm ecstatic about it. It's proof that we are winning the battle against tobacco." Reynolds went on to say that he was elated that the adult smoking rate had dropped below its longstanding plateau of 20 percent. He also added the rising state and federal tobacco taxes, increased spending on prevention programs, and more laws banning smoking in public could be the reason for the decline.
The American Cancer Society, an organization interested in the fight against smoking, looked at the tobacco industry for possible answers as to why people smoke in the first place and become addicted.
The tobacco industry spends billions of dollars to create advertisements to draw people in, portraying smoking as an "exciting, glamorous, and safe" habit. Even though cigarette brand product placement was banned from movies in 1998 in the Tobacco Master Settlement Agreement, cigarettes still made their way into two out of three box office hits in 2005. The numbers have declined since then, but in 2010 more than 30 percent of top-grossing movies rated G, PG, and PG-13 had tobacco scenes. Studies show that because of the high susceptibility of young people to external influence, movies and television ads that contain smoking create an attraction and curiosity to try smoking.
With 16 percent of high school students smoking, anti-smoking organizations and health official hope that the decline will continue to battle this teenage curiosity.
Published by Medicaldaily.com