U.S. Air Force Cuts Civilian Flu Shots As Sequestration Squeezes Health Budget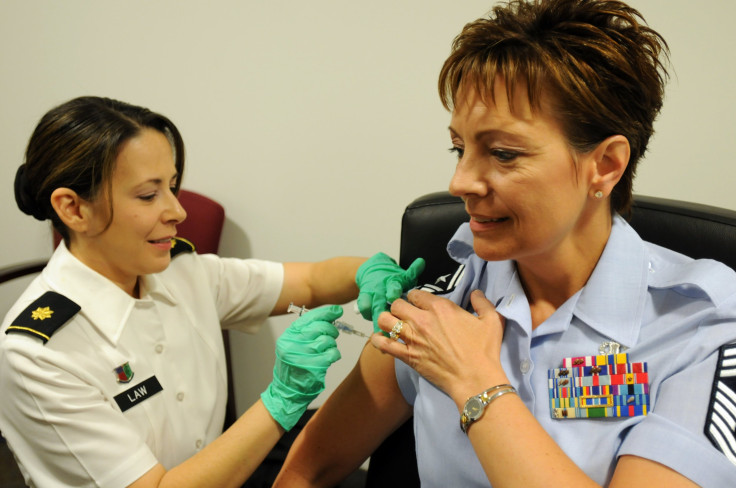 The U.S. Air Force says it won't offer free influenza vaccinations to civilian workers as the service prioritizes its health budget due to federal cuts known as sequestration.
Last year, the Air Force gave 12,000 civilian employees free shots, although only 20 percent of those eligible opted to participate in the seasonal influenza vaccine program. This year, the Air Force will give the shots only to beneficiaries of TRICARE, the Pentagon's healthcare system for members of military services, their families, and military retirees.
"In the past, [the Air Force Medical Command, or AFMC] has offered both the flu vaccine and wellness programs because civilian health and wellness is an important factor that supports our command mission," Col. James King, AFMC command surgeon, said in a statement. "Unfortunately, limited resources required us to prioritize and ultimately fund broader health programs that provide more resources for the total health of our civilian workforce."
The Air Force acquired this year's allotment of flu shots earlier this year "when this year's budget numbers were less certain," the Air Force said. Subsequently, the federal government underwent sequestration beginning March 1.
"Analysis determined that less than 20 percent of the civilian population used the AFMC-provided flu vaccine program and officials elected to instead fund AFMC's more comprehensive civilian programs, the Employee Assistance Program and Civilian Health Promotion Services," King said.
The U.S. Navy, however, announced this week it would continue to offer free flu shots to civilian employees. "The Navy is not taking this measure with its civilian workers," Paul Ross, a spokesman for the service, told The Huffington Post. "We intend to vaccinate all civilian health care workers providing direct patient care and those where it is written in their position description as a condition of employment."
Ross added that the Navy would prioritize vaccinations first for service members and healthcare workers before offering them to civilian employees, but said the vaccine should be in good supply. "We anticipate being able to offer this opportunity this year," Ross said.
The U.S. Army and Marine Corps did not return requests for comment on civilian flu vaccinations to The Huffington Post. Likewise, the U.S. Coast Guard, which is funded by the Treasury Department, did not return phone calls to the news outlet.
Moreover, federal research on a universal flu vaccine might be slowed by sequestration budget cuts, according to Francis Collins, director of the National Institutes of Health. "If you want to convert this into real meaningful numbers, that means people are going to die of influenza five years from now because we don't yet have the universal vaccine," Collins told The Huffington Post. "And God help us if we get a worldwide pandemic that emerges in the next five years, which takes a long time to prepare a vaccine for. If we had the universal vaccine, it would work for that too."
Collins and other federal health officials have for years warned that the world is long overdue for a global influenza pandemic. The Air Force has published more information on its 2013-2014 influenza vaccination program.
Published by Medicaldaily.com