U.S. Athletes Should Consider Skipping Rio If Fear Zika - Officials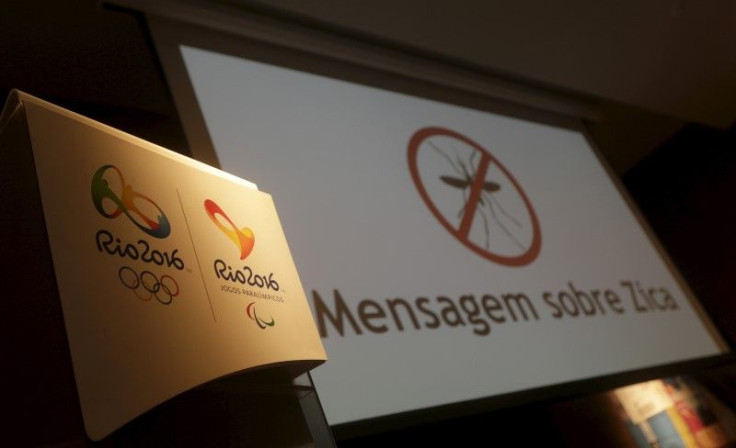 The United States Olympic Committee told U.S. sports federations that athletes and staff concerned for their health over the Zika virus should consider not going to the Rio 2016 Olympic Games in August.
The message was delivered in a conference call involving USOC officials and leaders of U.S. sport federations in late January, according to two people who participated in the call.
Federations were told that no one should go to Brazil "if they don't feel comfortable going. Bottom line," said Donald Anthony, president and board chairman of USA Fencing.
The USOC's briefing to sport federations is the latest sign that Olympics officials are taking the Zika threat to the games in Rio de Janeiro seriously, and acknowledging that at least some athletes and support staff could face a tough decision over whether to attend.
The United States won most medals at the last Olympics in London in 2012, so any disruption to its presence would be important for the Rio games.
Global health authorities suspect the mosquito-borne Zika virus has caused a spike in Brazil of microcephaly, a birth defect marked by an abnormally small head. As a result, the World Health Organization declared an international health emergency Feb. 1, and the U.S. Centers for Disease Control and Prevention (CDC) is advising pregnant women or those considering becoming pregnant to avoid travel to places with Zika outbreaks.
The USOC's Alan Ashley, its chief of sport performance, and other USOC officials, briefed the leaders of the federations.
Ashley did not respond to email or phone calls requesting comment.
USOC spokesman Mark Jones confirmed by email that Ashley had "briefed federation leaders on the CDC's recommendations and we will continue to ensure that athletes and officials affiliated with Team USA receive any updates from the CDC."
The USOC has not issued its own set of recommendations for athletes and staff beyond what the CDC and WHO have issued.
Jones declined to comment further or respond to specific questions from Reuters before publication.
In a statement on Monday, another USOC spokesman Patrick Sandusky said media reports that the USOC has advised U.S. athletes to reconsider competing in Rio due to the Zika virus were inaccurate. It was unclear what media reports he was referring to and he couldn't be immediately reached for comment.
"Team USA looks forward to the Games and we did not, would not and will not prevent athletes from competing for their country should they qualify," Sandusky said.
EXPRESSED OPTIMISM
Recalling the conference call, Anthony, a former Olympian, said: "One of the things that they immediately said was, especially for women that may be pregnant or even thinking of getting pregnant, that whether you are scheduled to go to Rio or no, that you shouldn't go."
"And no one should go if they feel at all as though that that threat could impact them," said Anthony, who praised the USOC's handling of the outbreak so far.
Zika outbreaks have been reported in 33 countries, most of them in the Americas. Symptoms of infection often are mild or imperceptible. But the outbreak in Brazil that began last year has been accompanied by more than 4,000 cases of suspected microcephaly; investigators have confirmed more than 400. The link to Zika is unproven but strongly suspected.
In El Salvador, which is experiencing outbreaks of the virus, women are being advised to put off pregnancy until 2018.
Will Connell, Director of Sport at the U.S. Equestrian Federation, said the USOC was leaving the decision up to individual athletes and staff members.
"They said no one who has reasons to be concerned should feel obliged to go," Connell said. "If an athlete feels that way, of course they may decide not to go."
During the call, the USOC did not indicate they were concerned that large numbers of athletes would avoid Rio or that Zika could derail the Games, the two federation leaders said.
Instead, officials expressed optimism that risk would be minimized by close cooperation among health agencies, mosquito control efforts and the Games' timing during Brazil's winter when mosquito-borne illnesses are less common.
The USOC officials on the call said the organization would adhere to the recommendations of health agencies including the CDC, the sport federation leaders said.
"As we get closer to the Olympics the guidance could get updated," Connell said.
In a Jan. 29 letter from the International Olympic Committee (IOC) to national committees, the IOC's chief doctors said they were monitoring the situation closely. They passed along mosquito avoidance advice, but remained confident the games would go ahead as planned.
The Australian and New Zealand Olympic Committees said they had already warned their athletes of the potential dangers for pregnant women.
"If any athletes on the team felt they didn't want to go, we would absolutely support them on that," an NZOC spokeswoman said on Tuesday.
An Australian Olympic Committee spokeswoman said they would "totally understand" if an athlete chose not to go to Brazil.
"But at this point no athletes have indicated they intend to withdraw from the team," she added.
Both Connell and U.S. Fencing's Anthony said the USOC's message was focused primarily on the potential risks for women who are pregnant or are thinking about trying to become pregnant.
Since the call, the CDC has issued more guidance in light of increasing suspicion that Zika can be transmitted sexually. The CDC said Friday that men who reside in or have traveled to Zika-affected areas may want to abstain from sexual activity or use condoms.
The Olympics have long promised to be a triumphant showcase for Latin America, which is playing host to the global sports spectacle for the first time. Rio has also been expecting more than 380,000 tourists for the Games, which come as Brazil's economy is mired in recession and its government reels from a corruption scandal at state oil company Petrobras.
An ongoing Zika epidemic could prompt some athletes, staff, sponsors and high-spending tourists to steer clear of the Games. Even if the risk of infection to any given visitor is very low – as health experts expect – uncertainties persist. There is no Zika vaccine, and currently available blood tests cannot always detect the virus.
Olympics officials "are taking the right approach from a standpoint of, let's be cautious, do not do anything that is going to put anybody, our staff or our athletes in danger," Anthony said.
Anthony said no U.S. fencers had spoken to him about Zika.
"I think our athletes are aware," he said. "But it has not become a mission critical issue yet. Not yet."
(Reporting By Daniel Bases and Joshua Schneyer; Additional reporting by Ian Ransom in Melbourne; Editing by Michele Gershberg and Lisa Girion and Martin Howell)
Published by Medicaldaily.com