US Begins Enhanced Ebola Screening Program at New York's JFK Airport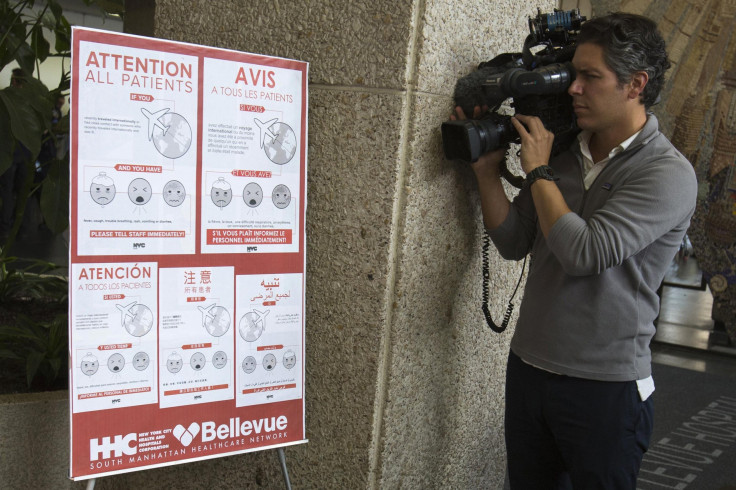 NEW YORK (Reuters) - Stepped up efforts by the U.S. to halt the spread of the Ebola virus will start at New York's John F. Kennedy International Airport on Saturday, where teams armed with thermal guns and questionnaires will screen travelers from West African countries hit hardest by the outbreak.
JFK Airport is the first of five U.S. airports to start enhanced screening of U.S.-bound travelers from Guinea, Liberia and Sierra Leone, where most of the outbreak's more than 4,000 deaths have occurred.
Nearly all of those traveling to the United States from those countries arrive at JFK, Newark Liberty, Washington Dulles, Chicago O'Hare and Hartsfield-Jackson Atlanta. The new procedures will begin at the other four airports next week.
The Centers for Disease Control and Prevention said the airport screening is just one aspect of an overall strategy to fight the spread of Ebola.
"Because we want to protect the American public, we are taking a tiered approach," said CDC spokesman Jason McDonald.
But even before authorities start checking passengers for fevers, critics questioned whether the screenings would prove effective at stopping travelers infected with the often fatal Ebola virus from entering the country.
JFK is the U.S. entry point for nearly half of the roughly 150 travelers who arrive daily from the three West African countries, and those flights amount to about one-tenth of 1 percent of all international daily arrivals to the airport, McDonald said.
The Department of Homeland Security's Customs and Border Protection (CBP) will conduct the screenings under CDC direction, McDonald said.
Using FDA-approved infrared temperature guns, the CBP staffers will check for elevated temperatures among passengers whose journeys began or included a stop in one of the three West African countries.
Screeners will also assess passengers for signs of potential illness and ask them to answer questions about their health and whether they may have come into contact with an Ebola patient.
Those with a fever or other symptoms or possible exposure to Ebola will be referred to the CDC, which will determine next steps. Health authorities may decide to take a person to a hospital for evaluation, testing and treatment, or to quarantine or isolate the patient under federal law, according to the CDC.
"Breaking a federal quarantine order is punishable by fines and imprisonment," according to the CDC's website.
But U.S. health authorities have never before used fever monitoring to screen travelers, said Lawrence Gostin, who teaches global health law at Georgetown Law School, and that monitoring didn't work well when used in Canada and Asia during the SARS outbreak in 2002.
Fever-monitoring "had virtually no effectiveness," he said. "It is unlikely to keep us safe."
Taking over-the-counter medication during the flight can easily help travelers bring down a fever to evade detection, Gostin said. Passengers also could lie on questionnaires aimed at determining whether the traveler has been exposed to the deadly virus, said Dr. David Mabey, a professor at the London School of Hygiene and Tropical Medicine.
"People may not fill them in very truthfully. They don't want to be delayed for hours," Mabey said.
Passengers are already screened when they depart from the three West African countries. In the two months since those screenings began, only 77 of the 36,000 screened travelers were denied boarding, the CDC said. Many of them were diagnosed later with malaria, and none with Ebola.
Thomas Eric Duncan, a Liberian national who died in Dallas this week, was able to fly to the United States from Liberia because he didn't have a fever when screened at the airport in the capital, Monrovia. And he filled out a questionnaire saying he had not been in contact with anyone infected with Ebola. Liberian officials have said Duncan lied on the questionnaire and had been in contact with a pregnant woman who later died.
Both Mabey and Gostin said it was unlikely that a person who passed the temperature screening at departure time would develop a high fever during the plane ride to the United States
But Dr. Jeffrey Griffiths, who teaches about infectious disease at Tufts University School of Medicine, said the U.S. screenings "will incrementally pick up some people" and are a valuable tool to raise awareness that early detection and treatment are key to survival.
"You want to convert yourself to a person who it's caught in early and increase your chances of making it," Griffiths said.
(By Sebastien Malo; Additional reporting and writing by Barbara Goldberg; Editing by Frank McGurty, Bernard Orr)
Published by Medicaldaily.com