U.S. Health Panel Likely to Make HIV Tests Routine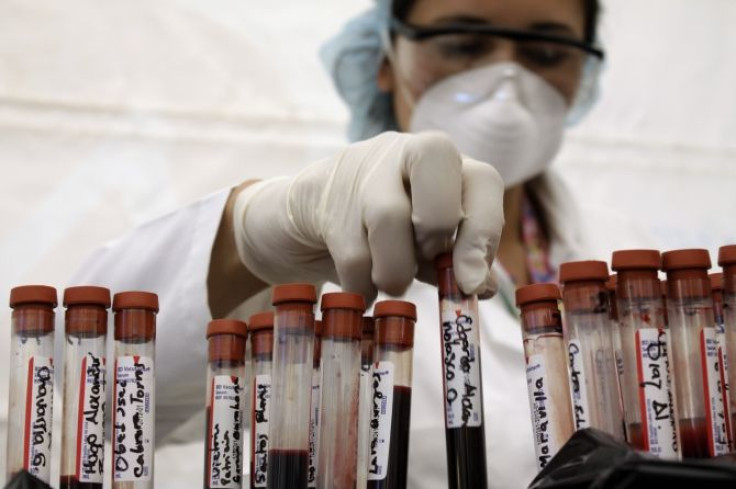 A U.S. health panel may soon make HIV testing as standard a practice as checking cholesterol levels, a move that would fundamentally change how the virus is detected and treated.
The U.S. Preventive Services Task force, a government-backed group of clinicians and scientists, is expected to make a new recommendation on HIV screening available for public comment before the end of the year.
Health officials close to the panel, speaking on condition of anonymity, see it making a positive recommendation for routine screening, updating their current position, issued in 2005, which leaves the decision up to doctors.
Under President Barack Obama's healthcare law, passed in 2010, insurers are required to cover preventive services that are recommended by the task force.
"This would be one of those major sea changes ... moving away from what has been somewhat the segmentation of HIV - either by population, by geography," said Michael Kharfen, chief of community outreach for the Washington, D.C., Department of Health. Kharfen, who worked on the frontlines of the HIV epidemic in New York in the 1980s, recalls when the prognosis for the disease was "practically certain you were going to die.
"It still will take culture change for medical providers, but this will be a tremendous leap," he said.
The HIV/AIDs epidemic remains a significant health challenge in the United States, with an estimated 1.2 million people living with the disease. Of this group, the U.S. Centers for Disease Control and Prevention (CDC) estimates that 20 percent are unaware of their infection.
Nearly 60,000 new cases of the human immunodeficiency virus that causes AIDS are reported nationally every year.
The CDC and other prominent groups have already called for routine HIV screening as a way to reach a much broader population and reduce the stigma some associate with showing up at an HIV clinic. But a recommendation from the task force would carry greater weight, as the U.S. health reform law of 2010 will require insurers to cover preventive services it endorses.
Global health officials have also stepped up the call for earlier treatment of people infected with HIV. New studies show that the latest HIV medications not only can extend the lives of patients for decades but are also one of the most potent ways of preventing their sexual partners from contracting the disease. Early treatment of HIV has been reported to cut transmission risk to uninfected partners by 96 percent.
"All healthcare providers have a responsibility to find cases of HIV because we don't know where they are," said Dr. Lisa Fitzpatrick, who directs the United Medical Center, an HIV clinic in Washington. While doctors in the past focused on higher risk groups such as men who have sex with men, she said, "HIV is in the general population now."
WEIGHING THE EVIDENCE
In 2006 the CDC recommended testing everyone between the ages of 13-64 at least once. They have since been joined by professional groups such as the American College of Physicians and the HIV Medicine Association.
The fact that the CDC and the task force came to different conclusions, even in the face of similar evidence, is likely to have stemmed from differences in their respective missions.
"We are looking at public health. The task force may be looking more at clinical care and the integration of prevention services within the clinical setting," said CDC Executive Director Kevin Fenton.
The task force is charged with weighing the potential harm of a test against its possible benefits. In 2005 the panel was not convinced by the available evidence that widespread screening would have the desired effect of helping prevent new infections by changing the behavior of the patient who tested positive.
"We did not find that evidence at that time compelling enough to say that we were confident that more people would benefit than the people who had HIV detected," said Dr. Michael LeFevre, co-chair of the task force.
"Obviously that was seven years ago," he said, noting that new scientific evidence has since emerged showing that the very treatment of infected people can help prevent them from passing on the disease. He said that will be factored into the panel's recommendation this fall.
THE COST EQUATION
While the task force doesn't factor cost into its considerations, the CDC and other healthcare providers do. Researchers at Stanford University estimate that over a 20-year period, expanding HIV testing to the general U.S. population would reach $27 billion dollars.
A more cost-effective solution proposed by the researchers, and in line with CDC recommendations, would be to do a one-time screening of the general population, followed up by annual testing in areas with greater prevalence of the disease.
Such a strategy would prevent an estimated 212,000 new infections and even lead to long-term healthcare savings, when the lifetime cost of $367,000 for HIV treatment is considered.
Private initiatives have also sought to make HIV screening more accessible and affordable. The CDC has a pilot program with drugstore chain Walgreen Co and other pharmacies for free, rapid HIV tests, whose wholesale cost is about $20 each.
The U.S. Food and Drug Administration recently approved the first over-the-counter, self-administered HIV test from OraSure Technologies, which is expected to sell for $60. A positive result would require follow-up at a doctor's office.
Adding an HIV screening to a routine blood exam would amount to $1.50 per patient.
LeFevre, a primary care doctor in Missouri, cautions that the barriers to testing go beyond the rating of a single agency.
"I can't think of another blood test in all of my practice that carries that baggage," he says of the pre-test consent, counseling, and post-test follow-up that HIV screening requires.
United Medical Center's Fitzpatrick agrees.
"This test is all about talking about sex and facing things about your patient that you feel uncomfortable facing," she said. "For years this was considered a gay disease so doctors did not get into the habit of talking about HIV or thinking that their patients might have HIV because they may not have had gay patients or they might not have known they have gay patients."
@ 2012 Thomson Reuters. All rights reserved.