US Obesity Rate: Gallup Poll Reveals Skinniest And Fattest States, Based On BMI
As a fast food nation of the 24-hour drive-thru and the former land of supersize meals, the U.S. continues to carry a heavy burden when it comes to obesity. While the waists are expanding and the belts are unbuckling in some states, others are shaping up by keeping their obesity rate at bay and boosting their overall well-being, according to the latest Gallup Poll revealing the skinniest and fattest states.
The new poll shows, nationally, the U.S. obesity rate has risen to 27.7 percent in 2014, which is up from 27.1 percent in 2013. These results are based on interviews with more than 176,000 U.S. adults who reported their own heights and weights. The researchers then proceeded to calculate people's body mass index (BMI), concluding people with a BMI of 30 or more are considered obese.
When it comes to its geographic location and obesity rate, the island of Hawaii stands out by reclaiming its title of the nation's least obese state after falling behind a few states in last year's poll. Its 19 percent obesity rate makes it the only state with a rate below 20 percent. Mississippi continues to remain the most obese state, with an obesity rate of 35.2 percent, closely followed by other southern states including, West Virginia at 34.3 percent and Louisiana at 33.2 percent.
Among one of the skinniest consistent states in the list is Colorado, which has been ranked among the top two least obese states every year since 2008. In 2013, the Rocky Mountain state had an obese rate of 20.4 percent, placing it second just behind Montana at 19.6 percent. This year, Colorado continues to remain at the second spot at 20.3 percent, dropping a tenth of a decimal.
The discrepancies between the skinniest and fattest states have been linked to a state's overall well-being. States with the lowest obesity rates tend to score higher on measures of well-being than states with higher obesity state. This research suggests when it comes to addressing obesity, it's important to look at more than just diet and exercise.
Click "View Slideshow" to see America's 10 skinniest states.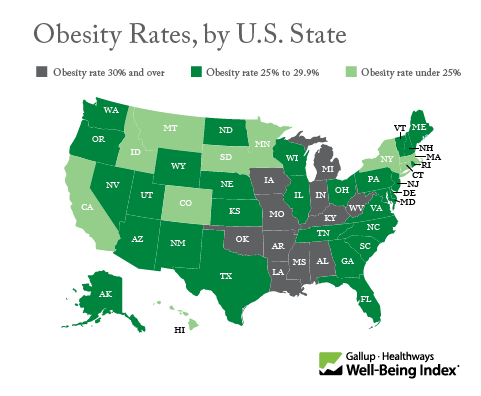 Published by Medicaldaily.com