US Obesity Rate Highest It's Ever Been, Reverses Downward Trend In Past Two Years, Survey Finds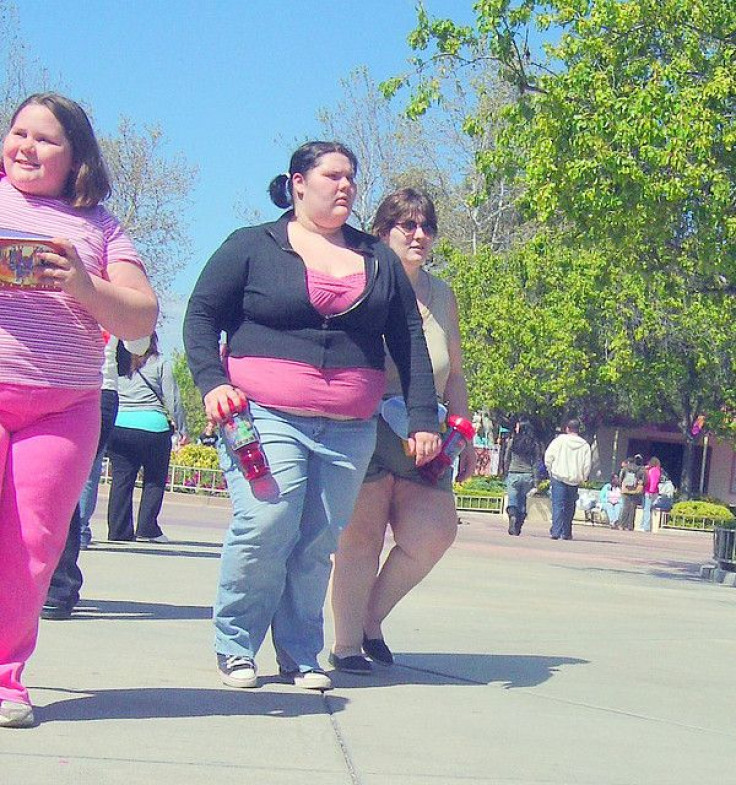 The fattest country on Earth loosens yet another notch on its ever-lengthening belt. Early statistics for 2013 show an uptick in obesity rates in the United States, leading to the tentative conclusion that this year could have the highest rates in history.
Contrary to popular opinion, Americans hadn't been gaining that much weight in the past few years. Since 2009, obesity — typically classified as a body mass index (BMI) of 30 or greater — remained static around 26 percent. Between 2010-2011, it actually decreased by a tenth of a percentage point. However, 2013 shows early warning signs that obesity has begun its rise once more.
According to one survey conducted by the Gallup-Healthways Well-Being Index, the obesity rate in the U.S. has risen to 27.1 percent thus far. This gain from 25.5 percent in 2008 actually accompanies slight declines in overweight participants (BMI of 25 to 29.9) and normal weight participants (BMI of 18 to 24.9).
The study conducted more than 84,000 telephone interviews from January 1-June 30, using participants' self-reported height and weight to calculate the obesity rates. Gallup and Healthways began compiling data on Americans' weight in 2008.
Meanwhile, the Centers for Disease Control and Prevention (CDC) suggest even greater rates of obesity, claiming an obesity rate in 2009-2010 of 35.7 percent of all Americans above the age of 20. Although obesity was calculated by the same standards, the scope for collecting these data differed from the Well-Being Index substantially. The National Health and Nutrition Examination Surveys (NHANES) conducted from 1999 through 2010 were used for these analyses, the National Center for Health Statistics' data brief reports.
"The survey consists of interviews conducted in participants' homes, standardized physical examinations conducted in mobile examination centers, and laboratory tests utilizing blood and urine specimens provided by participants during the physical examination," it says. Obesity rates were then extrapolated based on current population figures, controlling for "the differential probabilities of selection, nonresponse, and noncoverage...incorporated into the estimation process."
The causes behind this epidemic are hardly new, though the decreasing rates of exercise in 2013 compared to 2012 are particularly telling. A separate study performed by Gallup-Healthways shows exercise levels fluctuate with the seasons, creating a cyclical undulation that peaks in the summer. Last year in 2012, the weather was particularly warm: 53.9 percent of people reported exercising at least 30 minutes per day three times a week.
The CDC still finds only one-fifth of the population meets the overall physical activity guidelines, which includes aerobic activity combined with muscle-strengthening workouts.
This year's figures seem to be settling in closer to prior years. For every month so far this year, the percentage of people meeting the exercise requirement has been lower than the respective month in 2012.
"This April broke more than 3,400 cold-weather records across the nation with some cities still receiving snow in early May," the report states. "It is interesting to note that frequent exercise...is indeed down during a time of unusually cold weather and had previously increased amid record-breaking warmth. Frequent exercise in the U.S. hit a five-year high in July of last year, with 55.3% reporting that they exercised for at least 30 minutes three or more days per week."
What's more, this data comes on the heels of the American Medical Association's (AMA) new classification of obesity as a disease.
Gallup-Healthways submits that this shift in diagnosis could dramatically change the way doctors interact with patients, especially in terms of their openness with discussing obesity's potential dangers. However, it acknowledges the possibility of obesity acting as a crutch once diagnosed as a disease.
"At the same time, it could encourage more Americans to rely on complex and expensive medical procedures and treatments," the report concludes, "rather than taking steps to lower their weight through exercise, healthy eating, and other lifestyle changes."
Published by Medicaldaily.com