US Soldiers In Liberia Receive 4 Hours Of Ebola Training And Are Quartered In Hotels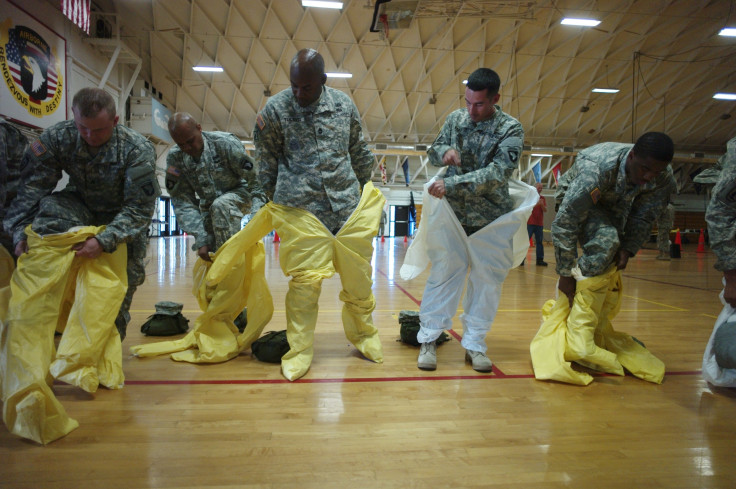 As they prepare to combat Ebola in West Africa, epicenter of the outbreak, U.S. military soldiers are receiving just four hours of on-the-fly instructions for protecting themselves against the deadly virus, The Daily Beast reported Friday. Earlier this week it was announced Major General Darryl A. Williams, who took command of U.S. Army Africa in June, will oversee as many as 3,000 military personnel tasked with setting up facilities and training health care workers in Liberia. In turn, education teams from the United States Army Medical Research Institute of Infectious Diseases (USAMRIID) are instructing soldiers at Fort Campbell and Fort Bragg on Ebola protocols.
The four-hour training session includes instruction on how to put on, remove, and decontaminate protective equipment, followed by a practical exam to test whether soldiers can perform the procedures, USAMRIID told The Daily Beast. While the soldier will primarily fulfill a logistics and construction mission, building a 25-bed hospital and 17 Ebola treatment units in addition to training health care providers in Liberia. However, a two-star general told The Washington Post it will take until late November or early December to complete all 17 treatment units. Additionally, the first 500 soldiers to arrive have been quartered in Liberian hotels and government facilities and not isolated military facilities, which presumably will be built shortly.
In its most recent situation report, the World Health Organization tallied 8,997 confirmed, probable, and suspected cases of Ebola in seven affected countries and 4,493 deaths. "Ebola alters and affects the coagulation of our bodies, it puts our bodies into a state referred to as disseminated intravascular coagulation, and it is this that leads to the rash and the bleeding we see," Dr. Kathleen DiCaprio, professor of immunology and microbiology at Touro College of Osteopathic Medicine, told Medical Daily recently. The virus also deregulates our inflammatory response, she said, and so "it really is a trio of pathology that makes it so pathogenic, so lethal, and so difficult to identify a vaccine and treatment."
Treatment In Sight?
Treatment may not be entirely elusive if we are to believe Thomas Ksiazek, director of high containment laboratory operations for the Galveston National Laboratory (GNL) at the University of Texas. Ksiazek, who left for Sierra Leone on Aug. 11 to lead the Centers for Disease Control and Prevention Ebola outbreak control operations. He returned from Africa earlier this month and is focused now on battling the virus primarily from the laboratory. "We have drugs and vaccines that are effective in primates here at the GNL and in other labs similar to ours, but they have not undergone the regulatory scrutiny to be used in humans," he said in an Aug. 5, 2014 interview, adding, "Some people would say it's unethical to use these drugs on individuals, but I think it may come to a point where we have to consider it." At that time, he was hopeful the outbreak could be brought under control "in a couple of months."
Clearly, the struggle against viral contagion has escalated since that time with cases no longer isolated in Africa but also occurring in Europe and the U.S. Having previously worked with USAMRIID, DiCaprio noted that in any situation of working with the disease, "from a protocol perspective, you don't want to take chances," so when in doubt, you take the highest level of precaution.
Apparently, the highest level of precaution is not easy to achieve no matter where health care workers are treating patients, whether in Africa or the U.S. Reuters reported, for instance, National Nurses United said the Texas hospital where Thomas Eric Duncan received treatment lacked protocols to deal with an Ebola patient, offered no advance training, and provided healthcare workers with insufficient gear, including suits that left their necks exposed. Basic principles of infection control were violated by both the hospital's department and CDC officials, National Nurses United, which is both a union and a professional association, said in a statement, with no one picking up hazardous waste "as it piled to the ceiling."
In August, a professor specializing in allergy and infectious disease told Medical Daily in the event of a single case of Ebola occurring in the U.S. — which had not yet happened at that time — the virus would not be likely to spread. "It's not likely to spread in our health care facilities because we're very comfortable and very used to using the precautions that are required to treat Ebola patients on an everyday basis in U.S. hospitals, the standard droplet contact precautions are things that are very familiar to US healthcare facilities and U.S. healthcare providers so it's very unlikely to have any spread in our healthcare facilities," the doctor told Medical Daily, expressing the common wisdom at that time.
Published by Medicaldaily.com