U.S. to Station More Troops in Australia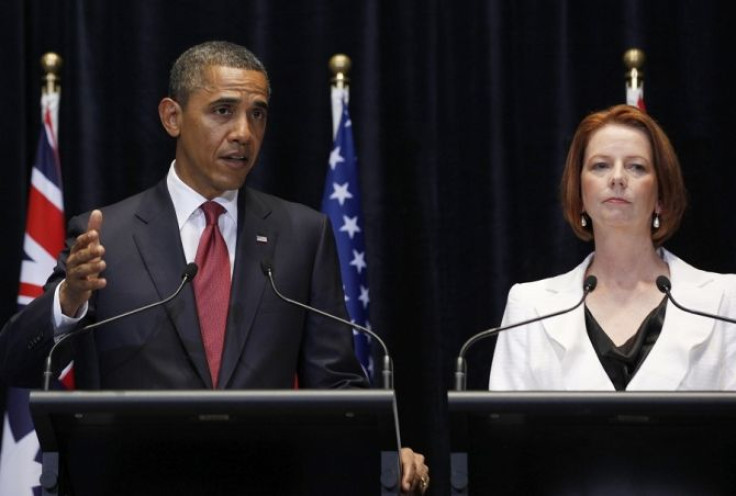 The United States will place up to 2,500 military personnel in northern Australia in the next several years, with up to 250 U.S. Marines beginning a rotation in the country in 2012, the countries' leaders announced Wednesday.
Australian Prime Minister Julia Gillard and U.S. President Barack Obama made the announcement on Wednesday in Canberra.
Gillard said the agreement also includes opening Australian bases to U.S. aircraft. There are currently up to 300 troops based in Australia under an older agreement.
"This rotational deployment is significant because what it allows us to do is to not only build capacity and cooperation between our two countries, but it also allows us to meet the demands of a lot of partners in the region that want to feel that they're getting the training, they're getting the exercises, and that we have the presence that's necessary to maintain the security architecture in the region," Obama told reporters.
Obama is visiting the region after a weekend trip to Honolulu, where leaders of APEC, the Asian-Pacific Economic Conference, met to discuss progress in establishing trade reforms aimed at opening up markets more to one another.
Obama also said the agreement also allows for improved response to humanitarian or disaster relief.
Ben Rhodes, who serves as Obama's deputy national security advisor for strategic communications was asked if the agreement was about "sending a message to China."
Rhodes said the agreement is "about sending a message to the entire region about the U.S. commitment to be present in a robust way in the South Pacific and Southeast area, as well as Northeast Asia, where we can have a significant presence."
Rhodes said part of the agreement is the U.S. sending a signal that it will "continue to play the role of underpinning security in this part of the region. Part of that context is a rising China."
"The United States is going to stay present and its' going to be able to, again, I think assure the nations of the Asia Pacific that we're going to be a guarantor of security for our allies, and we're going to be a force on behalf of international standards and norms."
Published by Medicaldaily.com