USPSTF Recommends Daily Aspirin For Some To Prevent Cardiovascular Disease And Colorectal Cancer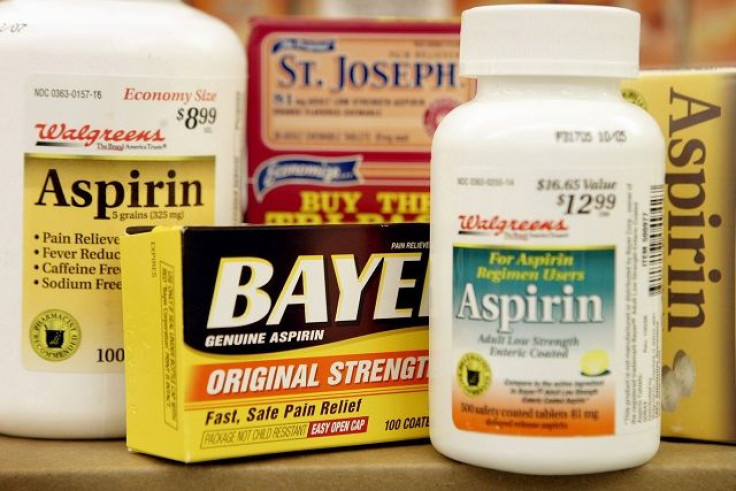 An aspirin a day may keep the doctor away — for certain people, at least.
This Monday, the U.S. Preventive Services Task Force (USPSTF) issued its latest verdict on the merits of daily aspirin use as a preventive measure against colorectal cancer and cardiovascular disease. After reviewing dozens of earlier studies, the agency recommended that select groups of men and women between the ages of 50 and 69 consider a daily regimen of low-dose aspirin to prevent the occurrence of both chronic conditions. The winning criteria includes having no increased risk of bleeding; having a 10 percent or higher chance of developing cardiovascular disease in the next 10 years; being expected to live for at least another 10 years; and being willing to take a daily dose for the same amount of time.
The strength of the recommendation came in different flavors as well, depending on the age group. For people aged 50 to 59, the agency gave its recommendation a grade of "B," signifying a moderate degree of certainty that daily aspirin can provide a modest benefit. For people aged 60 to 69, the recommendation was downgraded to a "C," meaning the decision to start daily aspirin should be made on a case-by-case basis with a doctor.
Prior to the current guidelines, the agency had issued recommendations for cardiovascular disease in 2009 and colorectal cancer in 2007. The 2009 guidelines recommended aspirin for men aged 45 to 79 on the basis that its benefits in preventing heart attacks would outweigh the harms caused by potential gastrointestinal bleeding; it offered the same recommendation for women aged 55 to 79 hoping to prevent stroke. Both were Grade A recommendations. In 2007, the agency actively discouraged the use of aspirin and other nonsteroidal anti-inflammatory drugs for colorectal cancer prevention in anyone with average risk.
The task force also examined research on overall cancer incidence and mortality. While they did find some modest effect on cancer rates and deaths, the evidence for it wasn't conclusive enough to suggest a newfound change in policy. "Low-dose [aspirin] use may eventually be shown to provide modest cancer mortality benefits" in people already at risk of cardiovascular disease, they wrote in a review published last September, "but [its] effects are not clearly established since current estimates are imprecise and relatively unstable."
While highlighting aspirin's positives, the task force also found that its harms may have been downplayed. In the cancer review, the team concluded that the rates of severe bleeding — both for people who took and didn't take aspirin daily — were higher than previously documented in clinical trials. In addition to gastrointestinal bleeding, aspirin has also been linked to a higher risk of hemorrhagic stroke and possibly certain forms of age-related vision impairment. Other research has found no net benefits in aspirin use for people who haven't yet suffered a heart attack or stroke.
Although the benefits of aspirin appear to outweigh its potential harms over a long period — a decade or more — the task force wasn't able to conclusively determine whether starting aspirin at a younger age than 50 could be worthwhile. The same held true for starting aspirin at an older age. In either case, the task force said, more research needs to be conducted.
Source: USPSTF publishes recommendation on taking aspirin to prevent heart attack, stroke, and colorectal cancer. Annals of Internal Medicine. 2016.
Published by Medicaldaily.com