UVA Medical Student Saves Patient-Actor From Life-Threatening Aneurysm: Ryan Jones Thought Fake Patient Was A 'Ringer'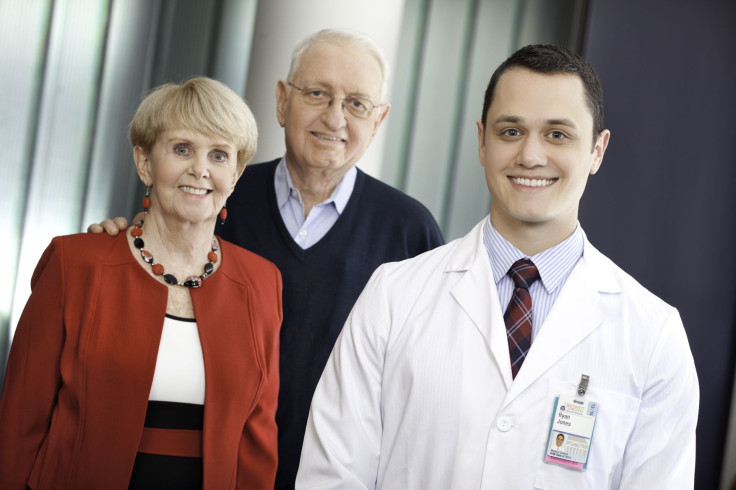 A University of Virginia medical student saved a man's life in the university's program long before graduation. Ryan Jones, who plans to become a radiation oncologist, detected a life-threatening aneurysm in patient-actor Jim Malloy, during UVA's standardized patient program. Aware of the possible ringers and decoys of practice exam, Jones initially thought the fake patient was aware of his condition.
"I said, 'I think I found an aneurism,' and he played along because that's his job and so I'm like, 'Does he actually know he has this?'" Jones told WDBJ 7.
Malloy and his wife, Louise, have enacted a wide range of physical illnesses in their role as "standardized" patients at UVA for several years. These standardized patients are used to help medical students prepare for their future interactions with patients in hospitals and clinics, according to the UVA press release.
In Jones' training session in March, Malloy was assigned to play a patient with an abdominal aortic aneurysm (AAA). This condition causes a small section of the lower aorta — the major blood vessel that supplies blood to the body — to balloon. The Mayo Clinic says a ruptured AAA can cause life-threatening bleeding since the aorta is the body's main blood supplier. AAA is common among men between 65 and 75 years old and can easily go undetected and be fatal if the aorta bursts.
It was when Jones began to proceed in the training exercises — listening to Malloy's complaints and examining them — that he actually found an AAA in the patient-actor. Despite Jones' initial belief that Malloy was a decoy, the medical student spoke up and mentioned he detected something real.
"He thought I might have been a ringer that was planted in there to test him, and I had no symptoms," Malloy told CBS News. "He thought I was a plant with the real situation."
Jones' discovery led to the supervisor doctor overseeing the session to suggest Malloy schedule an appointment with a cardiologist to deny or confirm he has an AAA. In August, the patient underwent stent surgery to remove the aneurysm. This procedure consists of a stent, a tiny wire mesh tube, inserted into the clogged artery with a balloon catheter that inflates to expand and lock it in place. Stents help to keep the coronary arteries open to reduce the chance of a heart attack, says the American Heart Association.
Most patients, like Malloy, will either stay overnight and return home the day after stent surgery, or some may even go home the same day. Hospital stay is contingent on whether any difficulties were present during the procedure and how well the catheter insertion area is recovering. Malloy must now keep a small identification card in his wallet that contains information about his stent, its location in his body, the date of the procedure, his doctor's name, and contact information. AAA patients are recommended to show this identification card to any doctor or dentist that treats them.
Louise expressed her great appreciation for Jones' diagnosis, which saved her husband's life, and hopes all medical students realize the impact their discoveries can have. "Don't ever think you can't affect a life," she said. "My husband, Malloy, is living proof that you can."
Jones is currently in his last year of medical school at UVA while he is interviewing for resident slots. The life saver "feels great to know that [he] made a difference."
Published by Medicaldaily.com