The Va J-J Visor: Protect Your Vagina While Waxing, Shaving, And Tanning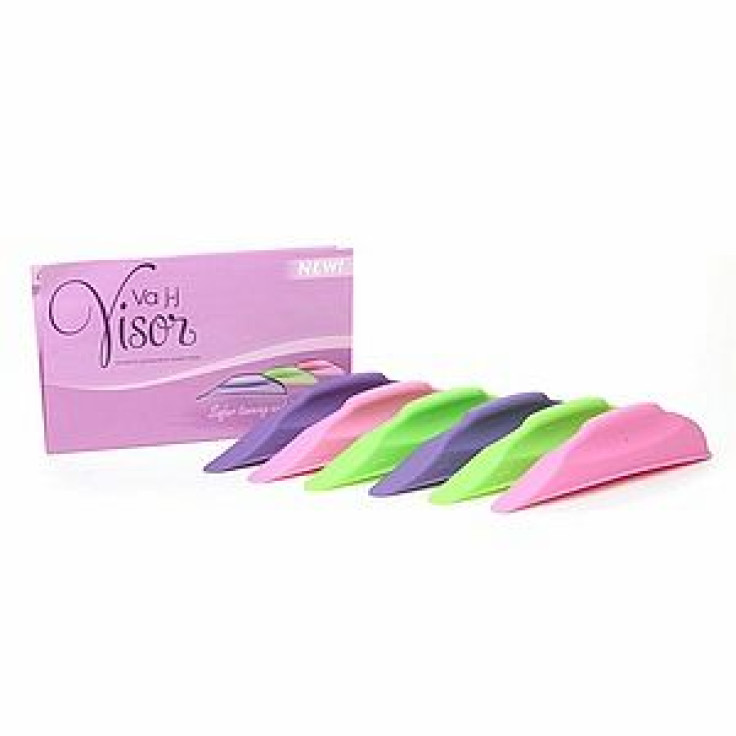 A new and innovate tool for feminine grooming and vaginal protection has now hit the market. Cleverly coined the Va J-J, this disposable shield is used to protect a woman's inner vulva area, which includes her inner labia, clitoris, and vaginal opening.
According to the manufacturer's labeling, the disposable shield is hypoallergenic, protects against UV rays, and is doctor-recommended. "Approximately 70% of the adult female population are sized generally the same in this area, so our product fits most," states the manufacturer's website.
It is especially useful when grooming the pubic region because it covers up the most sensitive areas of the female genitalia.
Pubic hair grooming accounts for a number of injuries and infections. The risk of cuts from using a shaving razor is the highest concern for women who choose to groom. The Department of Urology at the University of California San Francisco found that, from 2002 to 2010, out of the 335 genitourinary-related injuries (those affecting the urinary system and reproductive organs), 83 percent were shaving-related. What's more, the most common injury was a cut or laceration on the external part of the vagina.
The Va J-J visor idea was brought to light when two married couples and a sister were having a conversation about their grooming techniques. "At one point during the evening our conversation turned to the difficulty we girls were having in being able to properly groom 'down there' without getting creams, wax or depilatories in places where we definitely did not want creams, wax or depilatories," the product's inventors stated in a press release.
The company, VJJ Enterprises, is owned by Wendy Young, Lisa Alexander, and Laura Maile, and was founded in 2007. The visor has made its way to online drugstores and retail locations, such as Target and Hudson Bay.
Some women are still skeptical about using the product and its necessity. "We've had to educate the market because there's absolutely nothing like it out there," said Young, "but you go to a tanning salon, and you cover your eyes, and your hair, and you know there are germs around, so it only makes sense to cover up in a very sensitive area."
Published by Medicaldaily.com