Vaccine For Malaria Research 2017: First Large-Scale Vaccine Trial To Begin In Africa Next Year
The world's first large-scale malaria vaccine is scheduled to begin trial, according to an announcement from the World Health Organization. The vaccine will be piloted in three African countries — Ghana, Kenya, and Malawi — beginning in 2018.
Read: Glioblastoma Treatment Breakthrough: 'Untreatable' Brain Cancer Tumor Stabilized With Malaria Drug
"The prospect of a malaria vaccine is great news. Information gathered in the pilot will help us make decisions on the wider use of this vaccine," said Dr. Matshidiso Moeti, WHO's Regional Director for Africa, in a statement. "Combined with existing malaria interventions, such a vaccine would have the potential to save tens of thousands of lives in Africa."
The WHO's announcement of the vaccine's trial came a day before World Malaria Day April 25, which is celebrated to shine a spotlight on malaria prevention efforts. Malaria is caused by parasites trasmitted to people through mosquitos. Those who are most vulnerable to the disease when infected include children under 5 years old, pregnant women, and non-immune travellers from malaria-free areas.
Across the globe, malaria has the largest impact on Africa, as seen in the map below created by the Centers for Disease Control and Prevention.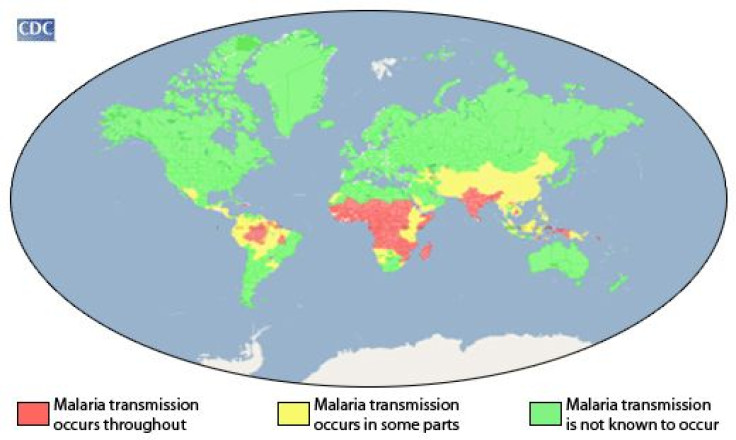 Although there's been a large reduction of malaria deaths between 2000 and 2015, a significant number of people are still affected by it. Nearly 429,000 people died in 2015 from the mosquito-borne disease, a majority of whom were young children in Africa.
The vaccine, called RTS,S, will be administered in four, injectable doses and is hoped to prevent young children, aged 5 to 17 months, from contracting the most deadly form of malaria. The drug has successfully passed previous rounds of scientific testing and was approved for trial in 2015.
RTS,S is an addition to already-existing malaria prevention measures, including insecticide-treated mosquito bed nets and indoor residual spraying.
See also: Malaria Mosquitoes Don't Like Chicken; Poultry-Scented Insect Repellent May Be Key To Disease Control
Is The Malaria Parasite The Cancer Cure We've Been Looking For? Accidental Discovery Displays Remarkable Results
Published by Medicaldaily.com