Vaginal Douche Use Tied To Chemicals 'Associated With Serious Health Problems'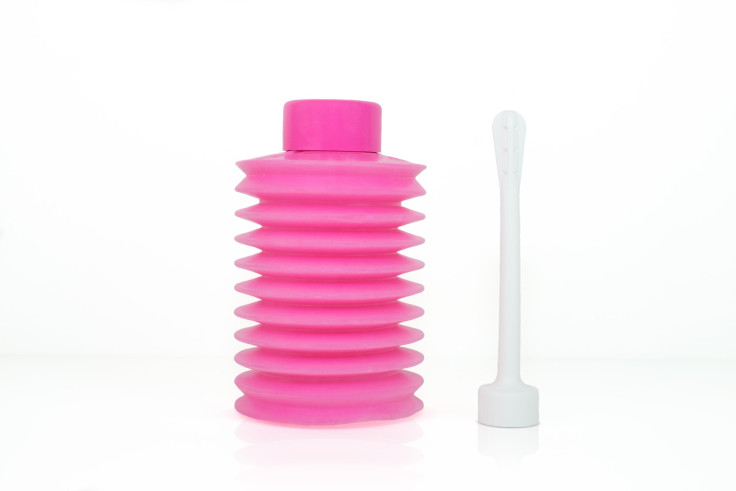 It seems that no matter which kind they are, being around douches for too long could be hazardous to your health.
A new study in Environmental Health today has found evidence that the regular use of commercial vaginal douches can expose women to potentially dangerous chemicals known as phthalates. This exposure risk is particularly higher among black women, since they utilize these products, intended to rinse out and/or fragrantly scent the vagina, more often.
The authors recruited nearly 800 women, ages 20 to 49, who had previously participated in a national survey about their use of feminine care products. Testing their urine samples, they then looked for traces of diethyl phthalate (DEP) after it's been metabolized by the body. DEP is commonly used to prolong the longevity of a fragrance in cosmetic products.
Women who reported having used a douching product in the past month had higher levels of the metabolized DEP, also known as its metabolite, in their urine -- on average around 52 percent higher. And the amount of DEP metabolite was nearly three times higher among women who had used a douche two or three times in the past month. Forty percent of black women in the study admitted to recent douche use compared to 14 and 10 percent of white and Mexican American women, respectively. (Out of the six feminine care products they studied, only douches were associated with DEP levels)
"This study suggests, for the first time, that vaginal douches may increase a woman's exposure to phthalates, chemicals that may alter hormone action and are associated with serious health problems," says senior author Dr. Ami Zota, an assistant professor of environmental and occupational health at Milken Institute School of Public Health at the George Washington University, in a statement. "These findings raise questions about the health and safety of vaginal douches and other fragranced products used in and around the vaginal area."
As the authors admit however, their study does not provide direct evidence showing a connection between human harm and phthalates, which are found in everything from medical tubing to skin moisturizers.
"Current levels of seven phthalates studied by the National Institute of Environmental Health Sciences posed 'minimal' concern for causing reproductive effects," explained the U.S. National Library of Medicine on an information page about phthalates. "However, the National Toxicology Program concluded that high levels of one phthalate, di-n-butyl phthalate, may adversely affect human reproduction or development."
In a 2003 Concise International Chemical Assessment Document produced by the World Health Organization, its authors concluded that, "long-term studies by dermal administration in rats and mice did not demonstrate carcinogenic activity for DEP." The current authors, for their part, advocate that more extensive studies examining any possible health risks are performed.
What isn't controversial is the recommendation by many health experts to avoid douching in general. Douching is believed to increase the risk of vaginal infection, pelvic inflammatory disease, and contracting sexually transmitted diseases.
"This study offers another piece of scientific evidence that shows why we need to know more about chemicals and their health risks before they get into our bodies," said co-author Dr. Tracey Woodruff, professor of obstetrics, gynecology and reproductive sciences at the University of California, San Francisco. "It's critical that we have public policies to ensure that the products marketed in the United States are safe."
Source: Zota A, Woodruff T, Branch F, et al. Vaginal douching and racial/ethnic disparities in phthalate exposures among reproductive-aged women: National Health and Nutrition Examination Survey 2001-2004. Environmental Health. 2015
Published by Medicaldaily.com