Vampire Facials: Celebrities Use Bloody Procedure To Help Rejuvenate Their Skin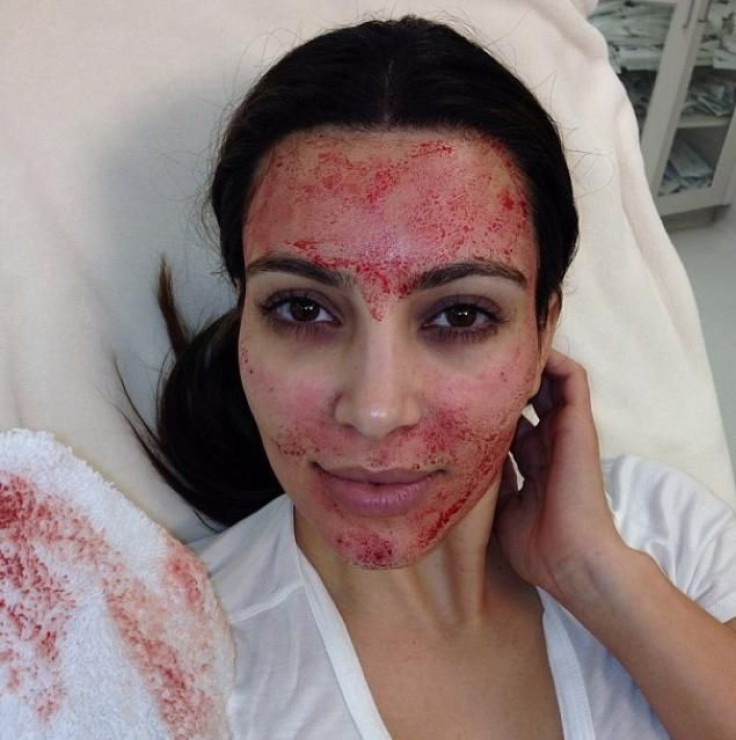 Halloween may be over, but you can still ask your doctor about a seemingly supernatural method for rejuvenating your skin. Vampire facials are the new anti-wrinkle treatment preferred by the rich and famous who are willing to cover their entire face with their own blood just to keep their skin firm and blemish-free.
Although ingredients used in the so-called vampire facelift have not been approved by the U.S. Food and Drug Administration, Hollywood celebrities are lining up for the experimental treatment. Reality television star Kim Kardashian underwent the procedure on an episode of Kourtney and Kim Take Miami back in March.
"There is controversy with this treatment," Kardashian's surgeon at The Miami Institute for Age Management, Dr. Julio Gallo, told CBS Miami. "Is it the panacea for aging? No, or a replacement for a facelift? No. But, is it a good treatment for maintaining and looking fresh and new? It is."
According to Vampire Facelift Procedure's website, aging affects our skin in three major ways. Less blood flow causes color to turn gray, the loss of muscle and collagen can result in a collapsed facial shape, and the skin's texture can become less smooth. Compared to other forms of cosmetic skin enhancement like laser therapy and Botox, vampire facials "offer a way of both restoring shape, and improving tone and texture, as well as literally rejuvenating new and younger tissue!"
Vampire facials, also known as platelet-rich plasma therapy, entail drawing blood from the patient's arm and placing it in a centrifuge to separate platelets from red blood cells. After the centrifuge, plasma is combined with hyaluronic acid (HA) fillers such as Restylane or Juvederm. Last, the cocktail is injected into various areas of the patients face to stimulate the growth of collagen.
"The needles open the skin so the platelets go in. The growth factors within are released through the tissue to form collagen and elastic tissue, that heals the area," Dr. Gallo told CBS Miami. Costing between $1,500 and $2,000, the vampire facelift procedure takes up to 45 minutes with results lasting as long as a year.
A study published in the December 2012 issue of Plastic and Reconstructive Surgery determined the long-term effects of facelift surgery. Researchers judged pictures of facelift recipients on three separate assessments including objective measurements, subjective assessments of key areas, and overall subjective assessment. Three-fourths of patients looked younger five years after the surgery compared to before.
"There is no significant objective or subjective sign of continued aging or 'relapse' in any area except for the neck," the researchers explained. "The vast majority of patients will continue to look better several years after surgery than they did before."
Published by Medicaldaily.com