Varenicline, Drug That Helps People Quit Smoking, Gives Women More Of A Boost Than Men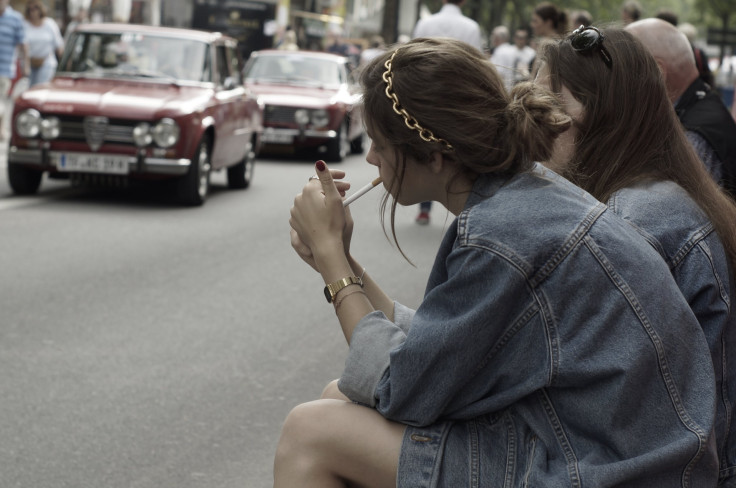 While most everyone has a tough time quitting smoking, women are notoriously known to be sticklers in the mud when compared to men. That doggedness has similarly translated to the use of popular treatments for smoking cessation, with nicotine patches and older prescription drugs like bupropion (Zyban) simply being less effective in women.
Now, for the first time ever, a new study published in Nicotine & Tobacco Research Wednesday has found that a more recently developed cessation drug, varenicline, may finally allow women to stand as equal a fighting chance in kicking the habit long term as men.
"Studies show that women have a harder time quitting smoking than men, even as quitting has shown greater benefits to women's cardiovascular and respiratory health," said lead author Sherry McKee, professor of psychiatry and lead researcher of Yale's Specialized Center of Research focused on gender and tobacco dependence, in a statement by the university. "With this first comprehensive analysis of sex differences in the effectiveness of this drug, now women and their healthcare providers can better decide how to successfully quit and live longer, healthier lives."
Conducting a review of 16 high-quality, randomized, and placebo-controlled trials of varenicline, the authors found a significant boost in the drug's effectiveness among women when taking into account their already lower response rate to placebo. After three months of treatment, the drug proved to be 46 percent more effective in women; after six months, it was 31 percent more effective. And when they looked at how people fared a year after starting treatment, they found an identical quitting rate between genders, hovering at 53 percent.
Officially approved by the FDA in 2006, varenicline is sold under the brand name Chantrix, and as McKee and her colleagues note, it's presently considered the most effective prescription cessation aid available (users are currently given a 12-week treatment regimen, with an additional 12-week session approved for maintenance if needed) Less clear though is why it appears to work its magic better on women.
"Smoking in women is more strongly tied to negative affect and stress and varenicline may directly target negative affect and improve mood during nicotine withdrawal," the authors offered as a possible explanation, though they strongly advocated that more sex-specific research be performed in the future.
While the most common side-effect the authors noticed in these trials was nausea, there have been concerns raised about its possible connection to serious psychological effects , particularly in those already suffering from prior mental illness.
The evidence for these severe complications is decidedly mixed as of now, though the authors note that two recent FDA-funded studies of almost 30,000 individuals found no difference in the hospitalization rate due to "neuropsychiatric events" between the nicotine patch and varenicline.
What isn't unknown is the impact that tobacco use continues to have on the world.
"Given that tobacco is the single greatest preventable cause of morbidity and mortality in the these findings have significant public health relevance," the authors concluded.
Source: Mckee S, Smith P, Kaufman M, et al. Sex Differences in Varenicline Efficacy for Smoking Cessation: A Meta-Analysis. Nicotine & Tobacco Research. 2015
Published by Medicaldaily.com