Vegan Chocolate Treats PMS Same As Regular Chocolate And Doubles As Healthy Dessert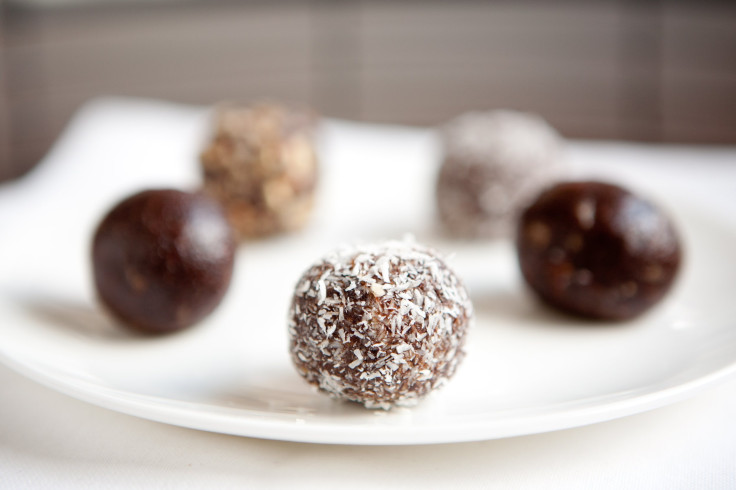 Chocolate for PMS symptoms seems to work well, but one woman thinks it works better if it's vegan.
Tania Green, 29, is the Boston entrepreneur behind PMS Bites. According to her website, these "rich, chocolatey, and decadent bite-sized treats are perfect for health-conscious women who want to satisfy their cravings but aren't willing to sacrifice nutrition." It's your classic chocolate truffle meets brownie batter, only healthy.
Green makes her treats organic, gluten-free, vegan, raw, with no added sugar, and herbs known to help reduce PMS symptoms, such as cramping and bloating. The herbs include dandelion roots, Siberian ginseng, and chamomile. Her 60-calorie bites are available for $3.33 in one of three flavors: Plain Crazy, Coco-Nutty, and All Kinds of Nuts.
While Green is passionate about her business, some experts question its premise. Any chocolate will do when you have cravings, Dr. Nieca Goldberg, the director of the Joan H. Tisch Center for Women's Health, told the NY Daily News. And nutritionist Keri Gans added it's more about the portion of chocolate than the chocolate itself.
But in an email to Medical Daily, Green said she's not claiming to have found a cure-all for PMS. She said her product "simply provides women with a healthy…alternative to sugary, overly-processed, and fat-laden desserts. Instead of reaching for a candy bar that is filled with a week's worth of sugar and fat, women can crave and indulge in these bites without feeling guilty."
Green's done some research, too. One book she referenced a lot was Overcoming PMS The Natural Way by Dr. Marilyn Glenville, in which Glenville includes a list of herbs studies have shown help with PMS symptoms. A study published in the Journal of Alternative and Complementary Medicine, for example, found ginger to be as effective as ibuprofen, also combatting nausea and motion sickness.
Dr. Mark Hyman advised The Huffington Post dandelion root can work as a diuretic, helping the body rid itself of unneeded water and salt through urine. Then there's the vegan diet itself. One study from the University of South Carolina found vegans lose more weight when compared to other diet types. Over a period of six months, vegans lost an average of 16.5 pounds and 4.3 percent more body weight than their non-vegan counterparts.
"What we eat affects every aspect of our lives; energy, performance, focus, sleep, and overall health," Green said. "Experts are divided among a number of health-related issues, but no one will disagree that healthy food [chock-full] of vitamins and nutrients is one way to reduce a number of health complications."
Published by Medicaldaily.com