Vegan Vs. Raw Vegan Diet: Myths and Facts About Your Health Without Animal Products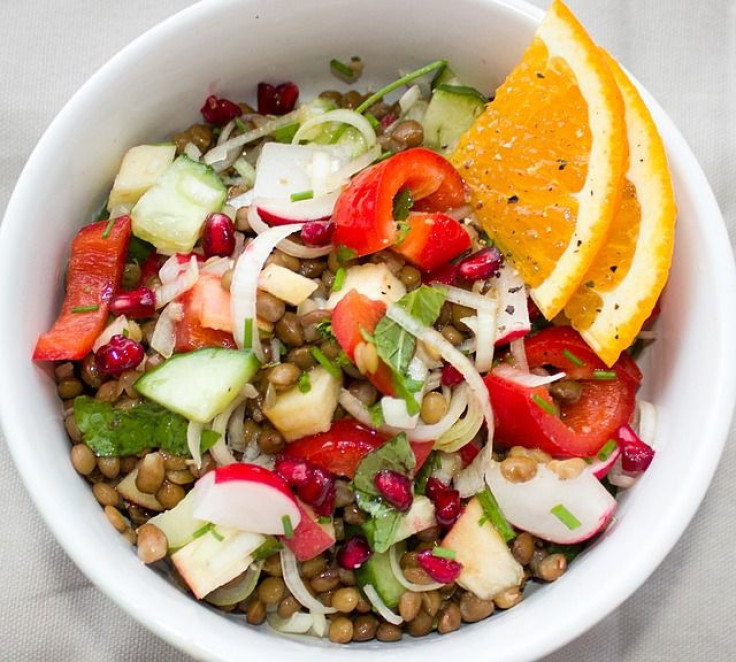 Vegans eliminate from their diets all animal and animal-derived products, including eggs, dairy, and anything made with gelatin. That means even items such as food dyes derived from an animal are off-limits.
But, what about eating raw vegan? These dieters follow the same plant-based plan, but also restrict their intake to only raw foods, eliminating any sustenance that's been heated above 104 degrees Fahrenheit (40 degrees Celsius), Live Science reported.
A vegan diet isn't right for everyone; there are potential health risks associated with cutting meat out of your life — like the possibility of not getting enough protein, B12, calcium, vitamin D, iron, zinc and others. The most effective way to avoid vitamin deficiencies is by educating yourself and doing research on alternative sources of nutrients, Medical Daily previously reported.
Read: Vegetarian Diet Benefits: What Happens When You Quit Eating Meat?
There is a lot of hearsay about how vegan and raw vegan diets impact your health. We've listed some facts and myths about the the animal-free lifestyles below.
MYTH: COOKING FOOD ABOVE 104 DEGREES DESTROYS NUTRIENTS
The process of cooking fruits and vegetables actually releases nutrients that would actually be unavailable if consumed raw, according to Live Science. Some veggies that are better cooked include cruciferous types, such as cauliflower.
TRUTH: A VEGAN DIET CAN REVERSE HEART DISEASE
Previous studies have linked low-fat vegan and vegetarian diets to reversing coronary heart disease, according to Authority Nutrition. However, it should be noted that some of these studies examined small groups, while other results may be impacted by drugs or regular activities like exercise and meditation.
MYTH: A MEATLESS DIET WITHOUT DAIRY WILL MAKE YOU WEAK AND FRAIL
Some of the world's strongest, best athletes also follow a strict vegan diet. For example, Kendrick Farris, the only American to compete in men's weightlifting at the 2016 Rio Olympics, is a vegan. The weightlifter eats a slew of black beans, avocado and vanilla, or chocolate flavored plant-based protein shakes. Other vegan protein sources and meat alternatives include soy foods, seeds, tofu, lentils, quinoa, and nuts.
Read: Should You Go Vegan Like This Rio Olympics Weightlifter? Vegan Diet Benefits And Potential Dangers
MYTH: BEING VEGAN IS EXPENSIVE
Eating plant-based based foods is actually very manageable on a limited budget, and it can be cheaper than consuming a meat-centered diet. Vegan go-to's include grains, potatoes, bananas, and beans, and these are usually very cheap at the grocery story, according to Forks Over Knives.
Read Also:
Vegans Eat Carbs And Still Lose The Weight: Why You Should Give The Diet A Shot
Vegan vs. Vegetarian Diets: How Each Will Impact Your Health
Published by Medicaldaily.com