Vibrating Forks to Help You Lose Weight? The Unusual Intersection of SmartProducts and Crowdsourcing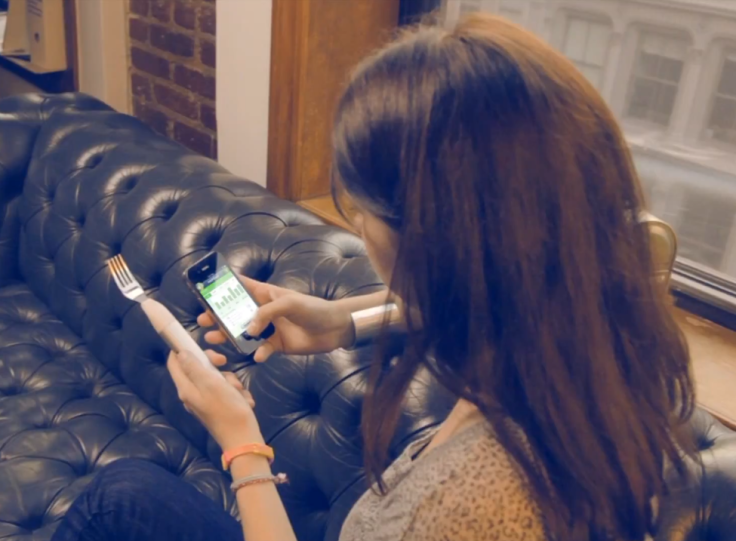 HAPIfork is the invention of Jacques Lepine, an engineer by trade who was told he ate too quickly when he was young. Once, after being rushed to the hospital when he though he was having a heart attack, his doctor diagnosed gastric reflux and warned him to slow down when eating. Over the next seven years, Lepine developed a tool to help pace his intake. The HAPIfork vibrates and lights up if a user takes a bite less than 10 seconds after the last mouthful.
"Your hormones are offset when you eat too quickly," says Lepine. "It's bad for satiation and bad for the transformation of nutrients." In fact, according to recent studies, it takes anywhere from 10 to 45 minutes to release the hormone cholecystokinin, which signals your brain that you are full.
Touted as a weight loss product, this smartFork is dishwasher safe, includes LED warning lights, a USB connector and software for computers and smartphones so that users may monitor their overall progress towards a healthier pace of eating. The prototype featured on Kickstarter is 95 percent final according to its Hong Kong-based production company, HAPILABS Ltd. The vision of the company's CEO, Fabrice Boutain, is to help individuals and groups improve their health, fitness and well-being through the company's "connected solutions." The HAPIfork, the flagship product, is expected to ship to backers in Q3 and hit unspecified retail locations in the US and EU in Q4 this year.
Setting $100,000 as its goal, HAPIfork's first 2,500 Kickstart backers will receive the HAPIfork for just $89, while subsequent backers will pay $99 each. At $300 a pop, backers will be granted the opportunity to become part of the beta program. One more product in the booming field of electronic health devices that monitor health habits, heart rate, or blood pressure, the HAPIFork is more importantly another entry into the arena of crowd-sourced products.
In 2006, Jeff Howe wrote an article for Wired magazine about harnessing the power of large numbers of people outside the auspices of corporations or other big institutions. Uniting business-speak with the common parlance, Howe referred to this barely observable (at the time) trend as 'crowdsourcing.' Barely three years later, Kickstarter -- its website boasts the tag line 'Bringing Creativity to Life' -- launched and so, too, did Howe's reality. On the Kickstarter website, project creators set a funding goal and deadline; if visitors to the site like a project, they can pledge money to make it happen. Kickstarter has one basic caveat: funding is all-or-nothing. Unless projects reach their funding goals, they do not receive any money. "Since its launch in 2009, more than 3.8 million people have pledged over $570 million, funding more than 39,000 creative projects."
Published by Medicaldaily.com