Vibrator Has Built-In Camera To Help Women See What's Going On Down There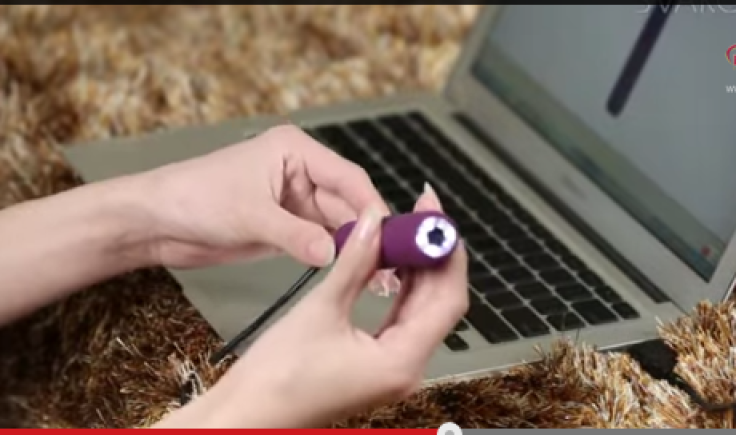 When it comes to our lady parts, many women are too shy or don't care enough to take a look at what's going on below the belt. Well, a new toy has decided to combat this issue by combining pleasure with information. The U.S.-based adult sex toy company with factories in China and Thailand, Svakom, has invented a vibrator — the Gaga — with a built-in camera lens tip.
The Gaga is designed like almost any other vibrator. It's a thin, sleek design, and the silicone-based covering makes it waterproof. It also comes with a USB charger cable for your laptop, so you can plug it in, turn on the light, and see yourself up close and personal. The vibrator can also be controlled by another person using the wireless app.
While the idea might seem strange — Why would you want a camera inspection when you're trying to self-please? — the outcome might be beneficial. Self-inspections are a great way for women to understand their bodies and notice positive and negative changes. It can help women learn what is normal for them individually. It can also help them to check for abnormal discharge or anything else that's not supposed to be there.
Svakom has been making toys since 2006, and its main focus is on design, research, development, manufacturing, and sales of sex toys around the world. Each Gaga costs $180 each and comes in three different colors: khaki, black, and fire.
This is the first vibrator of its kind with a camera attached to the end of it. However, the vibrator has been around since the 19th century. Before it was a sex toy, it was used for "medical purposes" as a way for women to cure their "hysteria." Doctors or midwives would stimulate a woman's clitoris using their hands along with some vegetable oil. The women would then experience an orgasm and be "cured" of their hysteria.
This technique, however, was painful for the doctors and midwives performing them — their hands would often cramp up and go numb. This is when physicians began experimenting with the idea of a mechanical way to stimulate a woman's clitoris in the doctor's office. In 1880, the first vibrator was born. It was invented by Dr. Joseph Mortimer Granville, who patented the electromechanical vibrator.
Centuries later, business is booming. The sex toy industry rakes in over $15 billion annually. The Gaga might be the first of its kind, but it's certainly not the last.
Published by Medicaldaily.com