Vietnam War 'Napalm Girl,' Kim Phuc, Gets Laser Surgery To Relieve Pain Caused By Burn Scars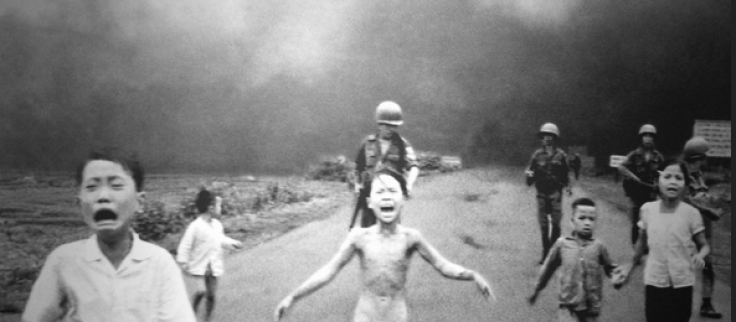 At 9 years old, Kim Phuc, better known as "Napalm Girl," became a symbol of the Vietnam War when she was photographed running naked, screaming in pain, after getting caught in a napalm explosion. Now, some 43 years after the incident, Phuc finally has the opportunity to undergo laser surgery to relieve the residual pain caused by her life-changing injury.
On June 8, 1972, the South Vietnamese military accidentally dropped a bomb on Phuc's village. Her clothing burned off and what remained clung to her small body, melting away her skin. Although Phuc survived the incident, she was left with burns on over a third of her body, covering her left arm, up her neck to her hairline, and down nearly all of her back, The Associated Press reported. The napalm destroyed her skin and collagen, and left her with scars nearly four times as thick as normal skin. Phuc has had 17 operations since the incident, but the scarred nerve endings in her damaged skin continue to seize up at random, causing deep, sometimes excruciating, aches and pains.
However, despite a lifetime of pain, Phuc has not lost hope in recovery, and credits her religious faith for giving her the strength to deal with the hardship. Several years ago, Jill Waibel, a dermatologist in Miami, heard Phuc give an inspirational talk at church. Waibel was so moved by her story that she offered to give the burn victim scar removal laser surgery, which usually costs between $1500 and $2000, free of charge. Now, Phuc is convinced that this last operation will finally give her the serenity she's sought for so long.
"So many years I thought that I have no more scars, no more pain when I'm in heaven," Phuc, who's now a Canadian citizen and lives near Toronto, told the AP. "But now — heaven on earth for me."
Last month Phuc and her husband, Bui Huy Toan, traveled to Miami to undergo the first of several operations. During the procedure, doctors used the superheated laser to vaporize the scarred tissue. According to Waibel, unlike scar treatment of the past, the laser allows doctors to take out "teeny pieces of skin," which allows the body to heal at almost normal again. Phuc will need up to seven treatments over the next eight or nine months, but she's confident that she'll get the results she's looking for.
"Maybe it takes a year," she said. "But I am really excited — and thankful."
Published by Medicaldaily.com