Vincent van Gogh's Severed Ear Recreated In German Museum Using 3D-Printed Model From Family DNA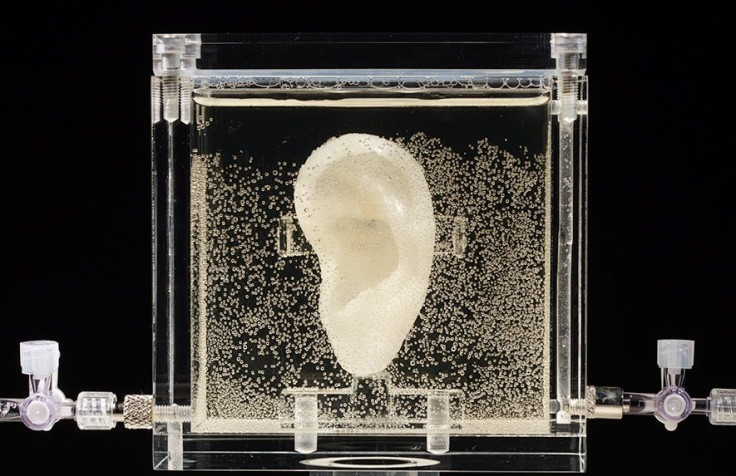 A German museum has given new meaning to "lending an ear." The Center for Art and Media in Karlsruhe is now displaying a live copy of Vincent van Gogh's severed ear that was made using a 3D printer and the genetic information from a relative of the artist.
Artist Diemut Strebe made the replica after drawing a sample of DNA from Lieuwe van Gogh, the great-great-grandson of Vincent van Gogh's brother, Theo. Lieuwe shares a Y chromosome and 1/16 the genes of the 19th-century Dutch artist. The U.S.-based artist constructed the live organ at Boston's Brigham and Women's Hospital.
"I use science basically like a type of brush, like Vincent used paint," Strebe told the Associated Press. Ideally, Strebe said, she would have used the DNA from the artist himself. But after a mix-up in the DNA found on an envelope supposedly belonging to van Gogh, Strebe had to use the next best thing. "The postman messed it up," she joked.
The ear is contained in a nourishing liquid that, in theory, could keep the ear alive for years. Visitors to the museum will have the chance to speak into the ear via a microphone. According to the museum, the input sound will feed through a computer that processes the noise in real-time. While you may not be able to have a conversation with the 3D-printed organ, "the crackling sound that is produced is used to outline absence instead of presence."
3D printing, as a technology, has made stunning leaps within the last few years. Most recently, scientists produced live blood vessels. These tiny organs mark the first step toward larger-scale organ development — structures that can be directly transplanted into patients, without the additional software needed to give van Gogh's replica ear "hearing" ability.
"Engineers have made incredible strides in making complex artificial tissues such as those of the heart, liver and lungs," Ali Khademhosseini, lead researcher in the recent study, explained to the International Business Times.
Going forward, the museum has plans of including a separate display using mitochondrial DNA, which can only come from a female relative, passed down the mother's line. As for the current installation, Strebe says getting Lieuwe onboard was a cinch. "He loved the project right away," Strebe told the AP.
The exhibition will run until July 6. Strebe said she has plans of moving the installation to New York next.
Published by Medicaldaily.com