Vine Video Shows Toddler Smoking Marijuana As Adults Laugh In Background; The Internet Is Outraged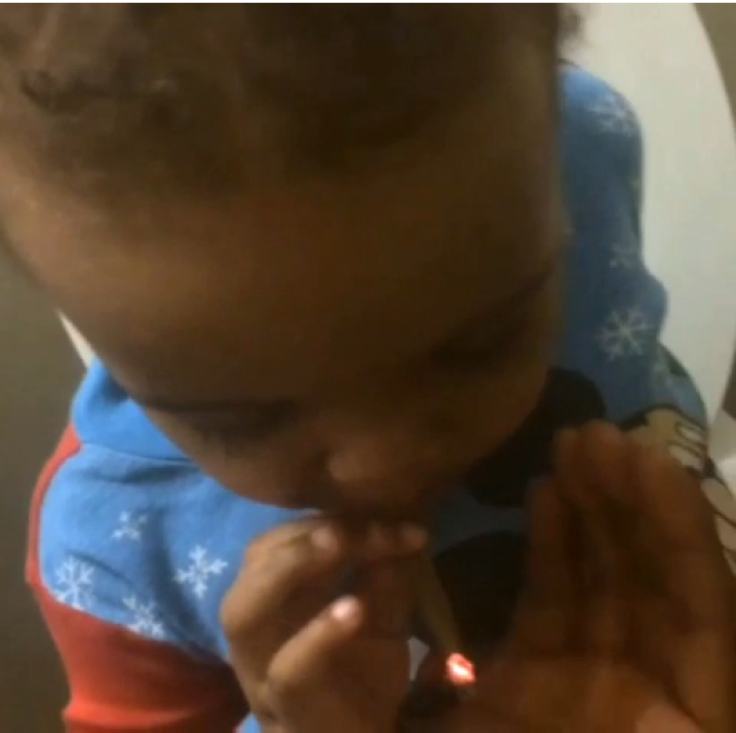 A Vine video uploaded by an unidentified user known as "ChiefSmokes" shows a toddler dressed in Mickey Mouse pajamas and sitting on a toilet, smoking from a joint while adults laugh in the background.
It appears that the adults in the video are cupping the blunt as the child inhales, then laugh while saying, "He's smoking it, he's smoking it!" It's uncertain whether the adults are the child's parents.
The user behind ChiefSmokes' Vine profile claims he's not the one who handed the kid marijuana. ChiefSmokes posted another video which appears to be the toddler bouncing around after he got high, and wrestling playfully with a black man. But ChiefSmokes captioned it, "This is not me lol I'm not black."
Angry commenters still directed their fury at him, however. "Where are you getting these videos from?" One user, MuhvaMelly, writes. "[I don't care] if you're not black or it's not u. You are promoting it." ChiefSmokes has posted about 53 videos and has over 400 followers.
The active ingredient in marijuana, THC, can have a significant effect on the formation of nerve cell connections in the brains of children and adolescents, which can leave them impaired in later years. It especially impacts the cerebral cortex, which involves thinking skills and memories.
The video has been retweeted over 39,000 times and revined over 9,000 times. One Reddit user, skidoorider21, wrote, "After watching this I immediately downloaded the video, took screenshots and reported it to CPS in California as it is where the user is from. This is no environment for a child to be in. He needs a good parent not someone to hurt him or bring him down."
However, the user who uploaded the video is apparently not the child's parent and it has yet to be investigated.
Published by Medicaldaily.com