Vinnie Myers' 3-D Areola Tattoos Give Breast Cancer Survivors Renewed Sense Of Femininity Post-Mastectomy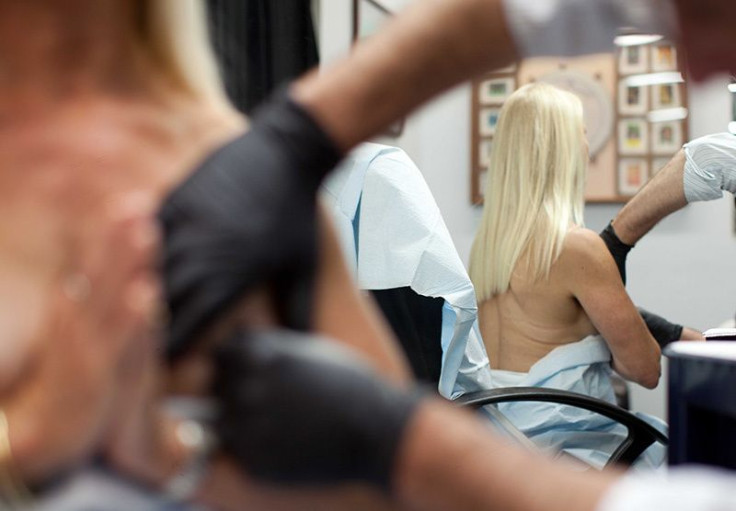 For many women, having their breasts removed as a treatment for cancer or as a preventative measure against developing it is a decision that comes with great loss — loss that is physical, emotional, and often even financial. One Baltimore tattoo artist hopes to use his talents as a remedy to these losses and to make a woman's path back to femininity a smoother one.
Read more: Tattoo Ink May Not Cause Melanoma, But It Can Hide It
Vinnie Myers owns Little Vinnie's Tattoos just outside the Baltimore area, in Finksburg, Md. Having 22 years of experience under his belt, he offers the customary gamut of tattoos — ornate sleeves, sprawling back pieces, humble portraits — in addition to offering the less common: areola and nipple tattoos. Myers said the tattoos let women reclaim the sense of femininity that was robbed by mastectomies.
"We've tricked doctors," Vinnie's assistant, Richie, told VICE. "There's been ladies that have called us all giddy and giggly, 'You'll never believe what happened!' they say. 'I went to my follow-up appointment with my surgeon and I disrobe and he's looking through my chart and he's looking at me real confused and he finally says, 'I think we made a mistake. This chart says you were operated on.'"
Here, the practice of nipple/areola tattoo reconstruction in a medical setting frustrates Myers, as many cosmetic surgeons offer the procedure, yet do not perform at a high enough standard for the exorbitant, and uninsured, prices they charge, Myers said.
"It's easily a couple thousand bucks," he noted, "and insurance doesn't cover it. Here, we charge the same amount for an areola as we charge for any other tattoo of the same size. Why should we charge more just because it's a nipple?"
Little Vinnie's charges $400 for one areola tattoo and $600 for both. Myers added that the shoddy quality of work by many cosmetic surgeons adds to his motivation for excellence.
"It's just Art 101," he said, leaning up against the parlor's pool table. "Light and shadow. It's hard for me to believe that nobody else ever thought about this before. You know a lot of the other cosmetic tattoo artists, they just hold up a circle template and color it in. They've got three colors. They've got chocolate brown, bubble gum pink, and salmon. Whichever one you're closest to, that's what you get. Most of the white women get salmon."
These basic palette options don't just reflect inattention to detail, Myers said; they serve as constant reminders of the past, just like the scars that once stood in their place.
"I'm hoping it will eliminate the constant reminder," said one woman in her early 50s. "For a while you're just in survival mode. You just take it one procedure at a time, one diagnosis at time. And then after it's all over, you have the sense that everything's great-until you're by yourself, and that's the hardest part."
"Sometimes I'm great, and then when I get out of the shower, it all comes back-kinda like a kick in the gut," she added. "Hopefully this'll just help erase some of the memories."
Read more: Temporary Tattoos, Permanent Damage: FDA Warns Spring Breakers About Henna
A Growing Trend, A Growing Client Base
Myers' line of work is likely to explode in the coming years. In addition to the former Army medic's personal move in May 2012 to work alongside the Center for Restorative Breast Surgery in New Orleans, women are opting for preventative mastectomies more than ever.
The number of women with early-stage breast cancer who decided to reject treatment in place of surgical removal grew by more than 150 percent from 1998 to 2003, according to one study presented by Dr. Kelly Hunt at the annual conference for the American Society of Clinical Oncology. According to CNN, Hunt has also found that rates of prophylactic removal — that is, preventative mastectomies — are rising in recent years.
In 2010, eight percent of patients sought the procedure. In 2011, that figure rose to 12.6 percent, and in 2012 it was up to 14.1, according to Hunt, who works as chief of breast surgery at MD Anderson Cancer Center in Houston.
Despite the recent popularity of receiving the procedure, with actresses such as Angelina Jolie in February and Kathy Bates in September 2012, doctors warn women against unnecessary surgery.
Some 70 percent of women who undergo double mastectomies after a cancer diagnosis do not have a proven reason for undergoing the procedure, according to one 2012 study.
"The dilemma we're facing is more and more women are choosing to remove both breasts," said Dr. Michael Sabel, associate professor of surgery at the University of Michigan Medical School, in a statement announcing the findings. "We're greatly overestimating the risk of women with breast cancer developing another breast cancer."
Such a flaw has a host of unintended consequences, one being the unnecessary self-stripping of many women's femininity. The woman in her early 50s said she didn't realize how much she valued her breasts until they were removed.
"You feel like it takes your feminine side away," she explained, "And it's odd because all the time women try to hide their nipples, and then when it disappears, you think, 'Why did I hide it? Why did I work so hard to hide it?'"
Myers echoed these sentiments, noting that after over a decade of offering the service, the small addition of a properly constructed nipple and areola has far broader effects on a woman's state of mind.
"It's strange," Myers said, mixing pigments together, "how almost every woman I've talked to has that same feeling of not being complete, not really being whole. You felt whole before and now you're not. What I've heard more than anything else when I finish this procedure is 'I feel whole again.'"
Published by Medicaldaily.com