Vogue Launches Campaign Featuring All Different Body Types In Effort To Change Fashion's Mindset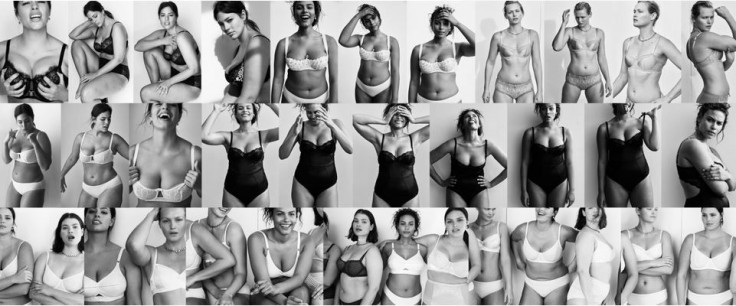 Professional photographers' ability to redefine the female body image is no easy feat. Vogue took the first step in the right direction by launching a slideshow called "The Best Lingerie Comes in All Sizes," featuring women with completely different measurements. Shining a genuine light on the truth beneath the average woman's clothing may help shake the pressure for perfection placed on women.
The black and white collection of women in bras, underwear, and body shapers is headed with "'Give me a D! Give me an F!' Because Gorgeous Bras Come in All Shapes and Sizes." The campaign ultimately encourages finding lingerie that fits a woman's particular body size, because let's face it, we're not all the same size. These aren't just any women, but professional models such as Marquita Pring, Inga Eiriksdottir, and Ashley Graham. The campaign encourages women to have their bra sizes measured correctly, because the wrong size bra could cause discomfort, pain, and loss of confidence.
"I probably had boobs at the age of 11!" Pring said in Vogue. "I was young, and it was definitely the wrong type of bra. In fact, I wore the wrong type of bra until I got into this industry and started learning about my body."
Giving the public a balanced presentation of thin and plus-size models is transforming acceptance in the fashion industry. This comes at a time when plus-sized models are being highly criticized, specifically Calvin Klein's newest plus-size model Myla Dalbesio, who wears a size 10. The catwalk modeling industry is very different than the sidewalk street fashion world. A plus-size model at Calvin Klein may be a size 10, but you probably wouldn't call the woman you just saw in the elevator wearing the same size "plus size."
There's a theory coined by German researchers as the "body size effect," which changes how a person sees the world depending on his body type. If the world surrounding a woman tells her the only thin body types are worthy of the front cover of a magazine, the perception she has of her own body is greatly tainted. The study "Being Barbie" explains how deeply intertwined a person's own sense of body influences the perception of what surrounds them, and consequently it works both ways. A young girl with a developing body in the fragile stages of her pre to pubescent transition will feel differently if she sees a beautiful woman with full legs she can identify with. If that same girl stood in front of images of a size 0 woman, she may feel a sense of inadequacy.
Aside from defending women with average or heavier body types, the other end of the spectrum is just as harmful. Putting down a body type just because they're not curvy enough is just as damaging on one's self esteem as it is to condescend individuals with heavier body types. Vogue is a globally recognized fashion and lifestyle magazine and one of the oldest and long-standing trendsetters in the industry. The first copy was released in 1892 as a weekly publication, and from there it defined the standards for fashion and communicated them to the masses.
For the general public and young girls especially, to see models of all shapes and sizes confidently modeling lingerie is a powerful message. Vogue told us not to wear white after Labor Day or mismatch stripes with polka dots, and now they're standing up for the body types of the everyday woman.
Published by Medicaldaily.com