Volunteers use 3D printers to create inexpensive prosthetics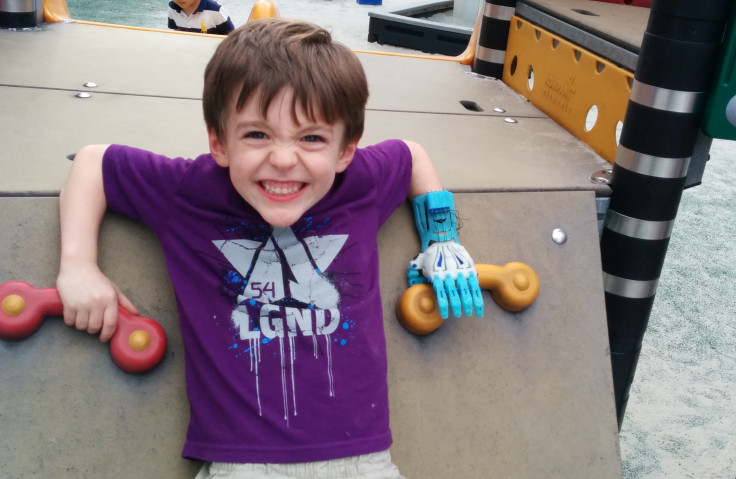 NEW YORK (Reuters Health) - An online organization of more than 1,500 volunteers is using 3D printers to produce prosthetic hands or fingers for people around the world who need them.
This Sunday, the group, called e-NABLE, will come together at the Johns Hopkins Hospital in Baltimore to further their goals of designing, printing and distributing their inexpensive plastic prostheses, in advance of an upcoming U.S. Food and Drug Administration public forum on 3D printing of medical devices.
e-NABLE founder Jon Schull, a research scientist at New York's Rochester Institute of Technology's Center for MAGIC (Media, Arts, Games, Innovation and Creativity), said the group's prostheses are made of tough plastics and cost little to make or repair.
"Traditional prosthetics can cost more than $40,000, and our hands have been favorably compared to them," Schull told Reuters Health. "We live in a world where the standard offerings are extraordinarily expensive. In contrast, we are harnessing the power of thousands of volunteers and giving them away."
e-NABLE's printed hands cost less than $50 to produce for volunteers with access to 3D printers, but they are not as elaborate as traditional prostheses. They are based on open-source, non-proprietary designs, some of which were first developed in 2012. (Hand, finger and arm design files are available from the group here: http://bit.ly/1CcwpWd.)
The collaborative approach to design has the potential to improve millions of lives around the world, said Dr. Albert Chi, a trauma surgeon at Johns Hopkins, in a statement to Reuters Health. "Now is the time to bring these technologies and practices into mainstream medicine."
Quinn Cassidy, the mother of a five-year-old who received an e-NABLE prosthetic hand, is an enthusiastic supporter of the organization.
"My son Griffin loves his - we still need to tighten the strings on the fingers and tweak it. When he put it on, he was immediately able to pick up a ball and throw it with his left hand, something he was never able to do before," she told Reuters Health.
Chi helped outfit Griffin with a prosthetic hand. Cassidy said the prosthesis has also helped Griffin become more confident, and he enjoys showing it off to curious children.
"He's wearing it a lot. He's really taken ownership of it," she said. "It's glow-in-the-dark, so he's pulling people in bathrooms and showing them. I can see him walking a little prouder when he has it on."
Cassidy recommends e-NABLE prosthetics to other parents with children facing limb difference, partly because they are so much more attainable than traditional prostheses and easy to use.
"We did not find a traditional body-powered prosthetic that Griffin liked at all. He would not wear it and it was incredibly expensive: even with good insurance, just the co-pay was $1,000," she added. "We have pledged $50 to provide another child a 3D-printed hand."
A growing Google+ network helps connect patients to local individuals or institutions with access to 3D printers. In particular, the group is interested in building alliances with aid workers in war-torn regions, disaster zones, and impoverished communities where inexpensive and easily attainable prosthetics are needed.
Schull said he is surprised by the growing support from traditional prosthetic manufacturers. Two leading traditional prosthetic companies, Hanger and Dankmeyer, Inc., are helping sponsor the conference, billed as Prosthetists Meet 3D Printers.
On October 8 and 9, the U.S. Food and Drug Administration will hold a public workshop "to discuss technical challenges and solutions of 3D printing" of medical devices.
"I have to believe that they are all keeping an eye on what we're doing," Schull added. "The pictures of smiling children are so compelling. I don't know if there will be pushback from the FDA."
Robert Graboyes, a senior research fellow at the Mercatus Center of George Mason University in Virginia, another sponsor of Sunday's conference, said he believes the FDA should approve new innovations at a faster pace.
"Will these new innovations be allowed? That's the big question," he told Reuters Health. "If nothing else, we have an antiquated system of approvals."
If e-NABLE were to begin selling their hands or make them more complex, they would need to get FDA approvals.
"Outsiders, those outside of the medical industry, are innovating faster than insiders are," Graboyes said. "3D printing is just one example."
At Sunday's conference, prosthetists and parents will learn how to print and assemble 3D printed prosthetic hands themselves.
"At the end of the day, children with upper limb differences will get to try on newly-donated 3D printed hand devices for the first time and provide feedback and guidance to the attendees," according to a statement from e-NABLE.
The FDA's announcement is here: http://1.usa.gov/1mUL19u.
Published by Medicaldaily.com