Washington Man Left Chilling Voicemail to Family Before Axing Sons and Setting Fire to House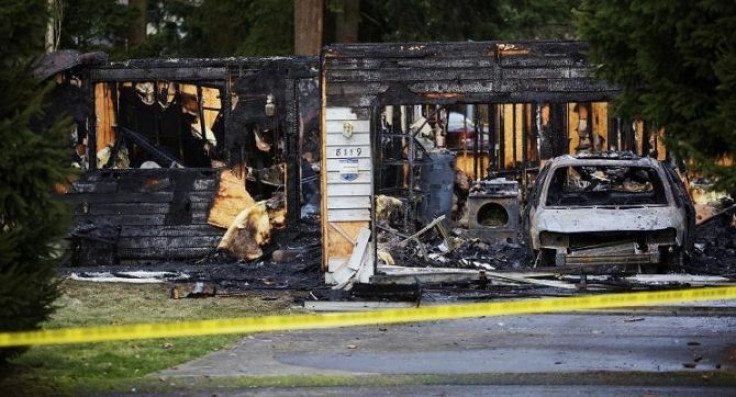 The Washington man who deliberately killed himself and his two young sons in a fire left a chilling and apologetic phone message to his relatives, just moments before Sunday's murder-suicide.
"Hello, this is Josh. And I'm calling to say goodbye. I am not able to live without my sons, and I'm not able to go on anymore. I'm sorry to everyone I've hurt. Goodbye," Josh Powell said in a voicemail to unidentified relatives obtained by ABC's "Good Morning America".
Powell's disturbing message was recorded 20 minutes before he slashed his sons Braden,5, and Charles, 7, with a hatchet after they went into his Graham, Wash. home while accompanied with a Child Protective Services worker who was on a supervised visit with their dad.
Powell had locked the child welfare worker out moments before he hacked his sons, Charles in the neck and Braden in the head and neck, according to a police autopsy report. After he attacked his sons, he set a fire that quickly filled the house with smoke which resulted in all three dying of smoke inhalation, Fox News said.
Powell had been deemed a person of interest in his wife's December 2009 disappearance, and he had been ordered last week to submit to a psychosexual examination before he could regain custody of his children who were in the custody of his wife's parents since last fall, according to the News Tribune.
It was reported that Powell had carefully planned the house fire for several days after he lost a court battle last Wednesday to regain custody of his sons, authorities said on Monday.
The paper reported that Powell had given away some of his sons' toys and books days and sent final emails to friends and acquaintances shortly before the murder-suicide
The sheriff's spokesman Sgt. Ed Troyer called the fire "a deliberate, planned-out event" and that detectives found evidence of 10 gallons of gasoline inside the house. Gasoline from a 5-gallon can was poured throughout the house, and another 5-gallon can was found near the bodies.
Parents of Susan, Powell's missing wife, had told the Seattle Times that the boys had been reluctant to see their father the previous week and on Sunday "they were just adamant they did not want to go," but the visits were court-ordered and the boy's grandparents had insisted that they went to visit their father.
"They liked seeing their dad. But the last time they didn't want to go," Chuck Cox, the boy's grandfather said, according to the Times.
Susan's sister, Denise Cox, had said on HLN's "Nancy Grace" on Monday that she "absolutely" feared that Powell would harm the children. She had also said that the children were recently beginning to talk more about what happened to their mother on the night she disappeared, when Powell said he took the boys on a late-night camping trip and his wife was gone when they returned.
A family attorney had said that the older son Charles drew a picture that showed the family in their van and Susan in the trunk.
"The dad was driving the van, he and his brother were in the backseat and mom was in the trunk," attorney Steve Downing, an attorney representing the Cox family said.
West Valley City Police Chief Buzz Nielsen said that the investigation into Susan Cox-Powell's disappearance is still ongoing despite Sunday's events, and he said to Susan's parents that he will not give up on case, according to HLN on Monday.
"Just when you thought it couldn't get any grimmer, you learn he had assaulted his kids with an ax," Mark Lindquist, Pierce County prosecutor told the Seattle Times.
Published by Medicaldaily.com