Watch Former Violinist Naomi Elishuv Play Mozart While Undergoing Brain Surgery At Tel Aviv Sourasky Medical Center In Israel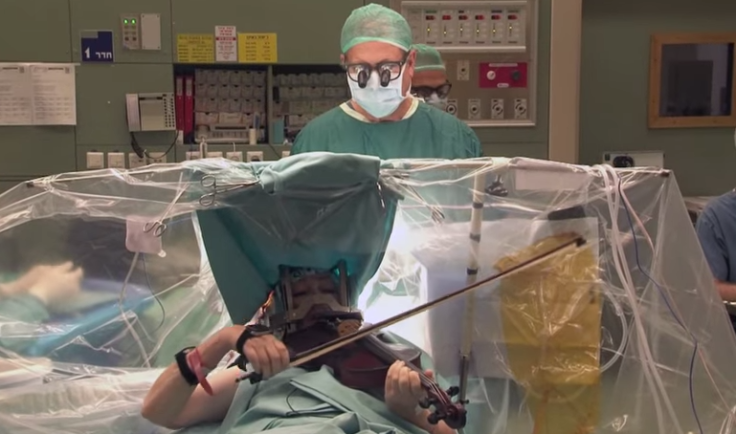 After being diagnosed with essential tremor 20 years ago, Lithuanian violinist Naomi Elishuv thought her playing days were behind her. Elishuv, who was part of the Lithuanian National Symphony prior to her diagnosis, was overjoyed to find out that corrective brain surgery may help her return to playing her beloved violin. On Tuesday, neurosurgeons at Tel Aviv Sourasky Medical Center performed the operation while Elishuv serenaded them with a live performance of Mozart.
"My great love is playing the violin, but for many years, I have had to make do with only teaching. The tremor didn't allow me to play professionally, and this was very hard for a woman who was used to performing all her life. It's a shame that I didn't know about this operation before. Now I'm going to live again," Elishuv said after the procedure.
Essential tremor, also known as kinetic tremor, familial tremor, or hereditary tremor, is a neurological condition that results in rhythmic trembling of the patient's hands, head, legs, or voice. A team of surgeons led by the head of functional neurosurgery at the Sourasky Medical Center Professor Itzhak Fried used sterotactic technology to reach the area of Elishuv's brain affected by the tremors.
Under a local anesthetic, Elishuv was awake during surgery but felt no pain while surgeons poked and prodded her brain. She was asked to play her instrument while doctors searched for the affected area. When they did locate the site of the tremors, Elishuv's playing began to improve. Fried's team inserted an electrode with four leads through a tiny hole drilled into her skull.
"When we turned on the electric current, we saw the tremor melt away," Fried said, "and Naomi continued to play the violin beautifully. This is the first time ever that I have performed brain surgery on a person who played the violin during the operation. We enjoyed the private concert of a talented and noble performer. I hope now she will be able to perform before a larger audience."
Published by Medicaldaily.com