Water Birth Death: Infant Dies From Legionnaires' Disease After Developing Infection Caused By Warm Water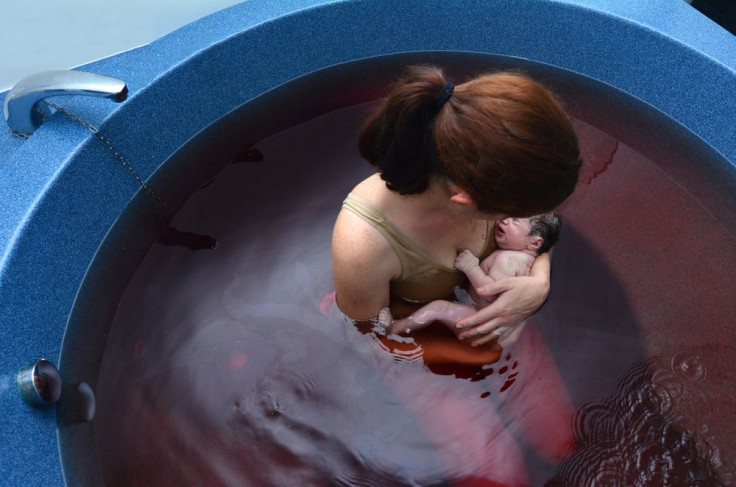 Back in January 2014, a newborn in Texas passed away after developing Legionnaires' disease a few weeks after being born. A report issued by the Texas Department of State Health Services suggests his mother's decision to undergo a water birth may have caused the infant to develop a life-threatening infection. Although this is considered the first documented case of a fatal infection being linked to water birth in the U.S., similar cases have been reported in the UK and France.
A licensed midwifery center in Texas filled a recreational-grade tub with water from a private well and treated it with water purifying spa drops two weeks before the child's birth. This water had not undergone filtration or chemical treatment. Two days before the child's birth, the tub was drained and re-filled with water at 98.6 degrees. Following the delivery, a certified professional midwife reported no complications and the mother, who described a healthy pregnancy and no travelling in the past year, was transferred to a home bathtub while the infant was monitored by the midwife.
Six days after the water birth, the infant was rushed to a nearby pediatric hospital with signs of infection, including loose stool and respiratory failure. After doctors ruled out E. coli, group B Streptococcus, and Listeria, symptoms of sepsis and respiratory failure combined with the infant's at-home water birth suggested Legionella pneumophila. Further testing confirmed the presence of L. pneumophila on the fourth day of hospitalization. On the 19th day of hospitalization, the infant died and doctors confirmed Legionnaires' disease as the cause of death.
According to the Centers for Disease Control and Prevention, between 8,000 and 18,000 people are hospitalized due to Legionnaires' disease each year in the U.S. A total of 763 confirmed or probable cases of an infection caused by Legionella bacteria were reported in Texas from 2008 to 2013. Although none of these cases included an infant under 1 month of age, an infant's underdeveloped respiratory and immune systems put them at high risk for severe complications related to Legionellosis, which include Pontiac fever and Legionnaires' disease.
Women often turn to water birth in the belief that reducing the stress of labor and delivery will also reduce fetal complications. The American Pregnancy Association explains the theory behind water birth is that the fetus has already been in the amniotic fluid sac for nine months so a similar environment provided by a tub filled with warm water will help ease the infant's transition. Clearly safe and filtered water is of utmost importance in water births, especially considering Legionella bacteria thrive in a warm water setting.
Published by Medicaldaily.com