Water Workouts Aren't Only For Seniors: Younger Crowds Also Joining 'Aqua Zumba' And 'Aqua Kickbox'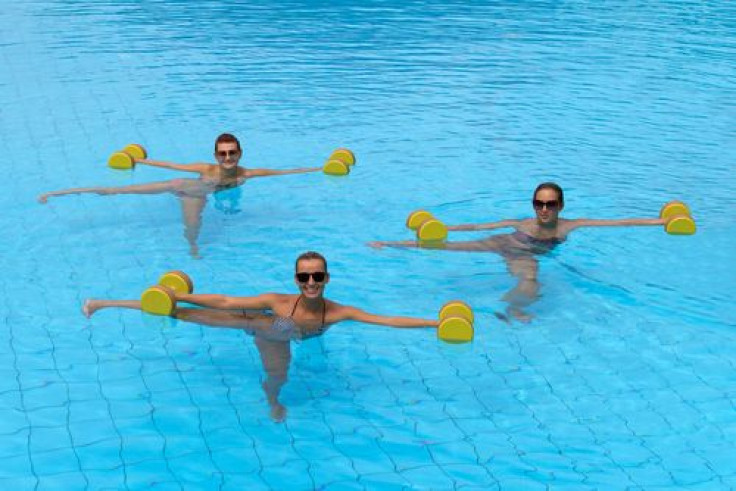 While pool workouts are more common among older adults and injured exercisers, a new younger crowd is now taking advantage of the low-impact, high resistance workouts.
Lori Rose Benson of the YMCA of Greater New York told Reuters seniors populate daytime pool classes, but the evening attracts a younger, party-oriented crowd. "Aquatic exercise can have all the benefits of a really tough cardiovascular workout. It's what you put into it," Benson said. There's a wide range of water classes being offered at gyms across the country, including:
Aqua Kickbox is a traditional kickboxing workout that is more challenging due to the water's added resistance.
Aqua Yoga uses the healing power and support of the water to enhance basic yoga moves.
Aqua Zumba, known as the Zumba "pool party," is a low-impact aquatic exercise, which blends cardio and resistance training with upbeat music.
Deep Water Fun and Fitness is a zero impact class, which improves cardiovascular fitness, flexibility, range of motion, strength, and balance.
Hydro Power is a high-intensity, high-resistance, zero-impact, upright, deep-water workout that focuses on cardio-respiratory endurance, muscle strength, muscle endurance, and flexibility.
Just two and a half hours per week of swimming can decrease the risk of chronic illness, according to the CDC. You are also able to exercise longer in water than on land without increased effort or joint or muscle pain.
Karen Kent, an aquatic expert who wrote the water exercise chapter for the American College of Sports Medicine's group fitness handbook, told Reuters the pool temperature for water workouts should be around 83 to 85 degrees, with air temperature about two degrees higher. The reason for this is because unlike swimmers, who are comfortable in the high 70s (mid 20s), the exercisers' heads are above the water line. "Swimming laps is different from doing exercise," she said. "Every workout has something else to offer and a well-rounded athlete should do all of it."
Swimming is the fourth most popular recreational activity in the United States behind walking, exercising with equipment, and camping, according to the US Census Bureau.
Published by Medicaldaily.com