Watermelon Juice, 'Nature's Viagra,' May Act As A Natural Erectile Dysfunction Treatment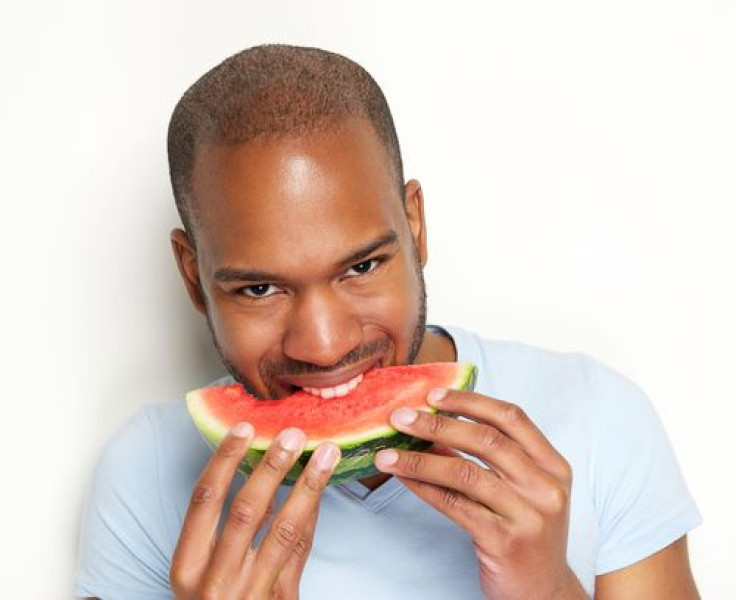 A cold slice of watermelon is devoured to satisfy our thirst and hunger during the warmer months, but the juicy fruit could even satisfy us in the bedroom in between the sheets. Coined as "nature's Viagra" by Italian scientists, watermelon juice can provide a big benefit to men who suffer from mild to moderate erectile dysfunction. According to a study published in the journal Urology, citrulline — an amino acid found in high concentrations of watermelon — is found to improve blood flow to the penis without the side effects of Viagra.
Made up of 92 percent water, a great source of vitamin C, and only 71 calories per serving, watermelon juice has become a fad that has attracted both weight-loss hopefuls and those who want to treat their impotence. "They may not want to eat them with the texture, but if they like the taste, the juice, if it becomes a health fad, then yeah anything to increase that market can be an increase ... a help to farmers," said Justin Lanier, Crisp County Extension Agent to WALB in Georgia. The strong demands for watermelon are benefitting the watermelon capital of the world.
To investigate the potential erection-boosting properties of watermelon juice, a team of Italian researchers at the University of Foggia, observed the effect of oral L-citrulline supplementation on men who suffer from mild to moderate erectile dysfunction. Twenty-four men with a mean age of 57 who had an Erection Hardness Score (EHS) of 3 (score of 0 means "penis does not enlarge" and a score of 4 means "penis is completely hard and fully rigid") were recruited for the study. These men received a placebo for one month and L-citrulline, 1.5 grams per deciliter, for another month.
The male participant's EHS, number of intercourses per month, treatment satisfaction, and adverse events were recorded. The researchers hypothesized if citrulline is known to increase the blood flow by relaxing the blood vessels, which is similar to what Viagra does, this could possibly prevent erectile dysfunction in men.
The findings revealed there was a significant improvement in the EHS scale, since half of the men managed a score of four as a result of L-citrulline supplementation. The improvement in the EHS from 3 to 4 occurred in two of the 24 men when taking the placebo, and 12 of the 24 men when taking L-citrulline. Moreover, the researchers found the mean number of intercourses per month increased overall by the end of treatment. All patients who had an EHS improvement from three to four reported being very satisfied.
"Although less effective than phosphodiesterase type-5 enzyme inhibitors, at least in the short term, L-citrulline supplementation has been proved to be safe and psychologically well accepted by patients," the researchers concluded. However, it's still a natural alternative treatment for mild and moderate erectile dysfunction in men who fear the drug's effects on the body. "Nature's Viagra," comes at a time when lots of men prefer not to take Viagra because it is expensive and also sometimes has unpleasant side effects, such as headaches. Watermelon is also easier on the stomach than L-arginine supplements because taking the pills can cause nausea and diarrhea.
In 2008, a team of researchers at Texas A&M found ingredients in watermelon that deliver Viagra-like effects to the body's blood vessels may even increase libido. "Arginine boosts nitric oxide, which relaxes blood vessels, the same basic effect that Viagra has, to treat erectile dysfunction and maybe even prevent it," said Dr. Bhimu Patil, director of Texas A&M's Fruit and Vegetable Improvement Center in College Station, according to Science Daily.
Although watermelon may not be as organ-specific as Viagra, it can give Viagra-like effects without the drug's side effects. This may be good news for men who cannot safely take erectile dysfunction medications if they have heart problems, high or low blood pressure, a history of stroke, eye problems, severe liver disease, and kidney disease, says the Mayo Clinic. Men without a history of the health problems listed above can experience side effects such as headache, indigestion, and in rare cases, dizziness or fainting.
Men, it's time to raise your glass of watermelon juice.
Source: Carrieri G, Cormio L, Lorusso F et al. Oral L-citrulline supplementation improves erection hardness in men with mild erectile dysfunction. Urology. 2011.
Published by Medicaldaily.com