Ways To Die: CDC Says The Rarest Way To Die Is Less Likely Than Getting Struck By Lightning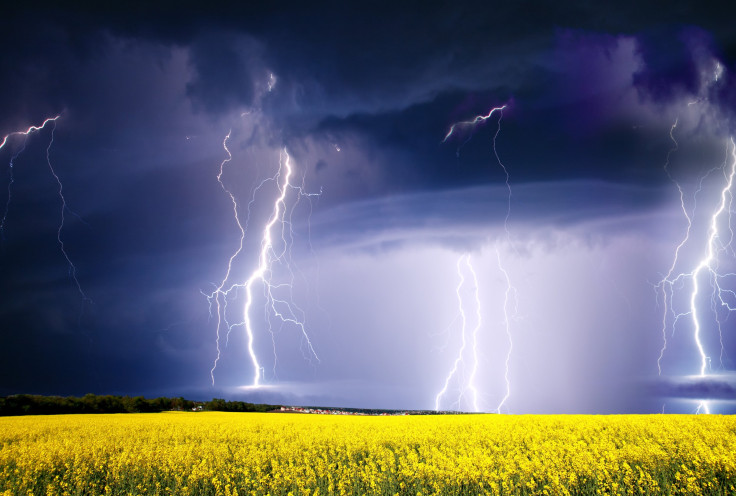 According to new data from the Centers for Disease Control and Prevention (CDC), getting struck by lightning actually isn't the rarest way to die.
In fact, there's something far more unusual than the one in 700,000 odds of getting struck by lightning in any one year, and it's dying in a flood, according to the CDC.
Last week, a 20-year-old man was killed after being struck by lightning at Venice Beach in an extremely rare event. The West Coast has a much lower chance of lightning strikes — at one in 7.5 million — so it was a shockingly unusual incident. But the CDC report finds that a total of 182 Americans were killed by lightning between 2006 and 2010, in comparison to only 93 deaths from floods over that same time frame.
The report, which examined deaths related to weather, found that lightning, floods, and storms like hurricanes, tornadoes, or blizzards accounted for about four deaths per 10 million people in the U.S. per year. A total of 10,649 people died from weather events between 2006 and 2010 — the most common being deaths from cold or hypothermia, at 6,660 deaths. Heat is less likely to kill people, according to the report, with about 3,340 Americans dying from heat-related causes such as "exposure to excessive natural heat" and "heat stroke or sun stroke" between 2006 and 2010.
According to the National Safety Council, heart disease is the leading cause of death among Americans, with one in six people in the U.S. dying from some cardiovascular event. Cancer and stroke are both next on the list — with one in seven people passing away from cancer, and one in 29 from stroke. Motor vehicle incidents, intentional self-harm like suicide, unintentional poisoning, falls, assault by firearm, drowning, fires, and excessive natural heat are all next in line. When it comes to natural disasters and storms, earthquakes and lightning strikes come before other more unusual sources of death like dog bites or floods.
Published by Medicaldaily.com