Wendy Davis Fact: Texas Women Defend Their Abortion Rights With Filibuster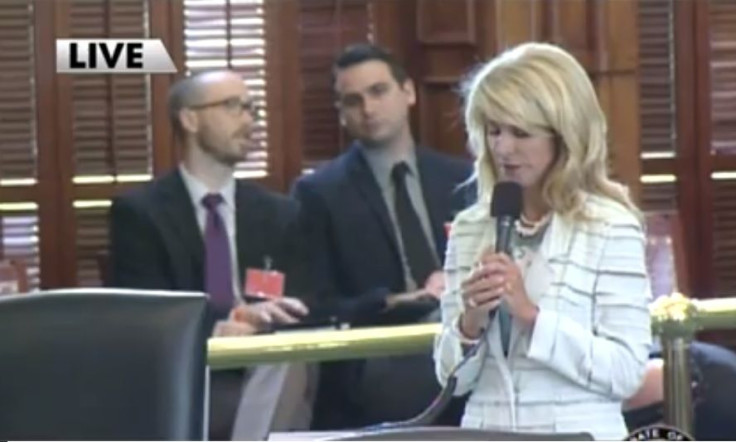 Late Tuesday morning, State Senator Wendy Davis of Texas launched a 13-hour filibuster to prevent a bill that would greatly limit women's access to abortions from being introduced to the Senate.
The bill would ban abortions past 20 weeks into a pregnancy, even in cases of rape and incest. Additionally, the bill requires strict building codes, and limits on providers that would effectively shut down nearly all of the state's remaining clinics.
On Monday, the bill passed in the House despite the arrival of hundreds of protesters at the capital, a citizen's filibuster, and a 12-hour delay by House Democrats. Davis' filibuster is a move to prevent the bill from being introduced, and put to a vote in the Senate. If she successfully holds the floor by speaking until midnight Central time, the close of this session, she will effectively kill the legislation. However, Governor Rick Perry does hold the power to open another session.
Many other states have moved to ban abortions after 20 weeks of pregnancy, but these laws are expected to be struck down as unconstitutional, as they have in Arizona and Idaho. Most notably, the Republican-controlled House of Congress passed a bill limiting abortions to 20 weeks. These bills have largely been symbolic challenges to the 1973 Roe v. Wade decision legalized abortions up to 24 weeks.
State legislatures, however, have found workarounds to the Roe v. Wade decision by limiting abortion access. The Texas bill, for example, would require doctors who perform abortions to have admitting privileges within 30 miles of the clinic. A similar requirement was used by state legislatures to effectively shut down abortion clinics in rural states such as Mississippi and North Dakota, which are staffed by doctors willing to perform abortions flown in from other states.
The bill would also require clinics to comply with more restrictive building codes which are usually applied to outpatient surgery centers in hospitals. According to the bill's opposition, this requirement would shut down most of the abortion clinics, since only five of the state's 42 clinics would be able to comply with the standards. According to the Guttmacher Institute, the nation's leading provider of abortion statistics, 84,610 women in Texas received an abortion in Texas. Many more of the 579,700 women who became pregnant in Texas that year may have desired an abortion but lacked access. In 2008, 92 percent of Texas counties lacked an abortion provider.
While their tweets might not be read as part of the filibuster, supporters of Wendy Davis are cheering her via twitter in tweets marked with #wendydavisfacts and #standwithwendy. Here are a few of the top ones.
‏@DangerSuave43m: Wendy Davis taught Chuck Norris everything he knows, but she cast him out when he fell in with the Neo-Cons #WendyDavisFacts
‏@maryfduffy: Wendy Davis once shot down horrible legislation, just to watch it die. #wendydavisfacts
‏@dmcrane12m: Roe vs Wade was not the start of women having abortions, it was the end of women dying from abortions. #WendyDavisTexas#StandWithWendy
‏@BarackObama: Something special is happening in Austin tonight: http://OFA.BO/CBZ6c7 #StandWithWendy
Published by Medicaldaily.com