Wendy's Nine Patties, 3000-Calorie 'T-Rex' Burger, Nixed By Food Chain For Unhealthy, 'Inappropriate' Portion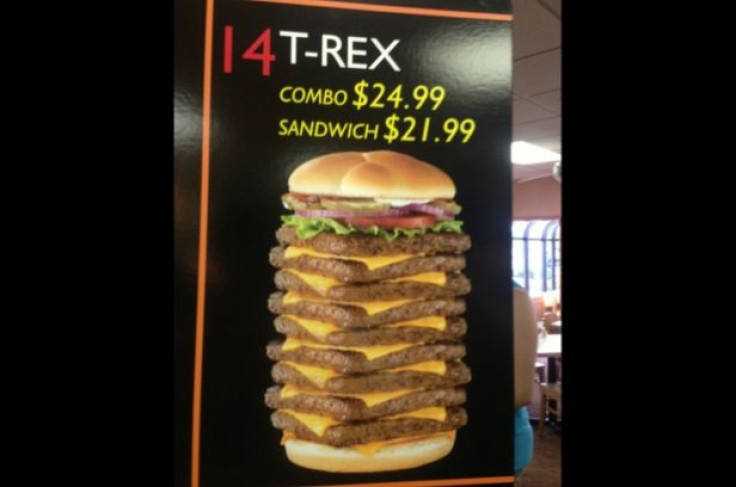 Too much publicity may have been the downfall of a Canadian Wendy's "T-Rex" burger that featured nine patties, yielding a 2 lb. 4 oz. monstrosity with 200 grams of fat, 6,000 milligrams of sodium, and a whopping 3,000 calories.
Customers began asking for the colossal burger after a fictitious ad that a Wendy's in Brandon, Manitoba placed in Sports Illustrated said the food chain sold the burger. When customers didn't realize that the ad was a joke, employees at the restaurant obliged, selling the burger for $21.99. The location began selling two to three of the burgers to customers daily. But just as buzz around the sky-high burger began to grow, Wendy's announced that its Brandon restaurant will no longer offer it.
"For obvious reasons, Wendy's of Brandon neither condones nor promotes the idea of anyone consuming a nine-patty hamburger in one sitting," said Barb Barker, an administrative assistant for the Wendy's franchise in Brandon. "Our goal is to provide options to our customers so they can make options that meet their needs."
Carla Taylor, a professor of human nutritional science at the University of Manitoba, said that the burger is too big and unhealthy. "Food is something I don't think we can treat in this way," she said. "We need to get appreciating good food ... of appropriate portion size."
Recently, fast food restaurants have been trying to shed their junk food image by offering healthier options like fruits and salad. Wendy's has been a big leader in that trend.
"Maybe somebody wants to try it once for the challenge," said Taylor. "But I think the better challenge is to look at how to eat healthy every day and think long term about how the foods you're putting in your mouth are impacting on your health."
Published by Medicaldaily.com