What's All This Fizz About Emergen-C?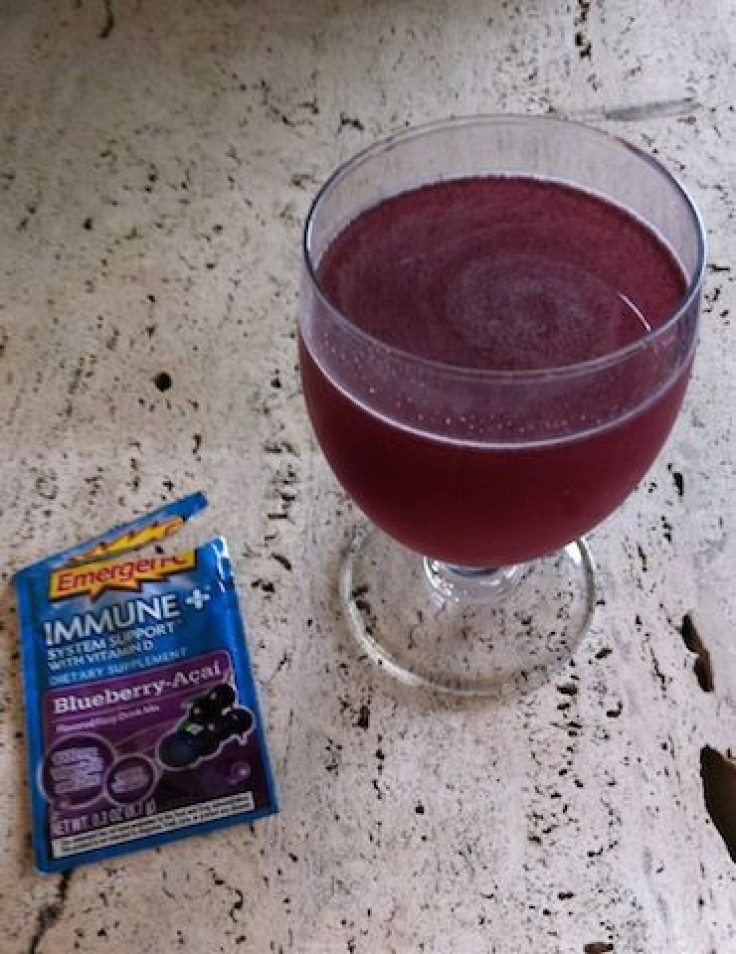 What's All This Fizz About Emergen-C?
It's a source of vitamins and some consumers are enthusiastic about it.
Emergen-C is a fizzing multi-vitamin powder drink that includes various substances the body needs, including electrolytes, antioxidants, Seven B vitamins, 1000 mg of Vitamin C, and 24 other nutrients.
Emergen-C, which is manufactured by Alacer Corp., currently has over 200,000 fans on its Facebook fan page, including some who rave about the product.
One non-profit group that distributes food and supplements across the U.S. to people in need writes on the Emergenc-C page it appreciated a donation of the product from Alacer.
"We at Nourish America sure appreciate that we are gifted with Emergen-C to give to Americans in need. Thanks Emergen-C," the organization wrote.
The bubbly, vitamin based, powdered drink mix is meant to be mixed with water, or juice. Some even use it in smoothies.
Fan, Rebecca Ruth Gill said on Facebook:
"Love my Emergen-C smoothies for breakfast, ride my bike to work, put in a full day, ride home, walk the dog, teach swim lessons and read a true story in bed. Leading a free senior exercise group keeps me in shape, and it is very emotionally rewarding."
With over 20 varieties of the vitamin drink mixes, including Emergen-C for kids, the original formula is still Alacer's best seller.
Some personal testimonies even claim that the product helps protect against colds, with one person declaring it helps prevent bronchitis.
"I use Emergen-C every single day! It gives me energy and keeps me from getting sick! Since I started taking it over a year ago, I have not had to go to the doctor for bronchitis. I used to get it [bronchitis] 3 times a year, but not anymore!," said Facebook user Melody Newhouse Burton.
Michael Morton, Executive Director of Nourish America, whose organization has received donations from Alacer, says that Emergen-C is an ideal product for disaster situations.
"Emergen-C has been used in our major disaster relief efforts for both first responders and victims in the United States," Morton told Medical Daily.
"The response from the front lines has always been one of deep appreciation and gratitude for the Alacer products, particularly the Emergen-C," he added.
Morton says the nutrients and electolytes in Emergen-C have definitely helped.
"We have heard over and over during this time, that Emergen-C has high value for a fire fighters, first responders and victims looking to replace much needed micronutrients and electrolytes in extremely high stress situations," he said.
Facebook fan Jillian Kirsten says it's the "best stuff on earth."
U.S. Vitamin Guidelines
Barbara Schneeman, Ph.D. Director of the FDA's office of Nutritional Products, labeling, and dietary Supplements says on the FDA website that supplements "may be useful when they fill a specific identified nutrient gap that cannot or is not otherwise being met by the individual's intake of food."
U.S. federal health and agriculture agencies have issued guidelines on ways to promote health and to reduce risk for chronic disease through diet and physical activity.
"An important point made in the guidelines is that nutrient supplements are not a substitute for a healthful diet," she says.
Published by Medicaldaily.com