When Everybody Buckles Up, Front Seat May Be Safer Than Back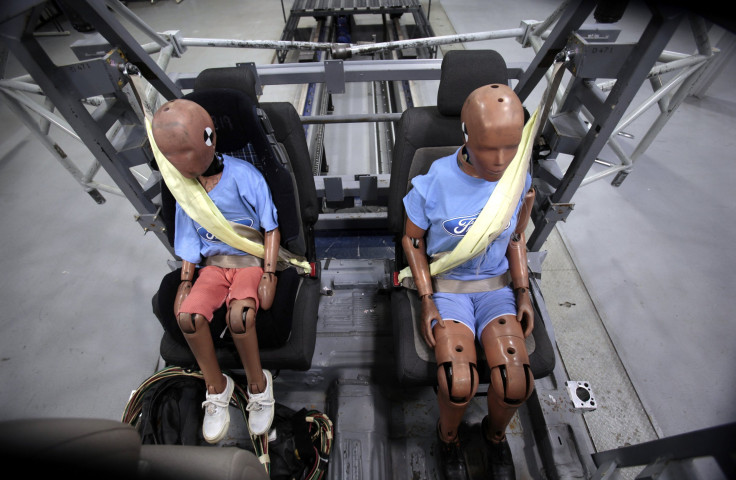 (Reuters Health) - When everyone in a car buckles up, passengers in front may be safer than riders in the back, and seat belts are at least partly to blame, a small Australian crash analysis suggests.
Even though safety improvements and widespread seat belt use have helped curb crash fatalities in recent years, road accidents remain the leading cause of death and serious injuries among many teens and adults in Australia and elsewhere, researchers note in Injury Prevention.
Crumple zones and other structural improvements to the car frame, air bags and seat belts have made the front seat much safer. But due in part to these advances, seat belts are now the most common cause of injuries to rear passengers in head-on collisions, said senior study author Dr. Julie Brown of Neuroscience Research Australia in Sydney.
"However, by ensuring that seat belts fit a passenger correctly, are always used correctly and optimizing seat belt technology, the loads produced by seat belts can be minimized and therefore this residual injury can be prevented," Brown said by email.
To get a better sense of how seat belts might contribute to rear passenger injuries, Brown and colleagues reviewed in-depth crash investigation records for 29 people aged nine to 80 years old that were involved in accidents.
On average, the people were around 30 years old. The cars in question typically dated to around model year 1998, and ranged from 1989 to 2010.
In all but two instances, passengers were wearing a three-point harness seat belt with a lap belt and chest strap. The other two people wore only lap belts.
Chest injuries were common, and these injuries sustained by passengers over 50 involved fractures of the ribs or sternum.
Abdominal injuries were most commonly observed in people under age 50, the analysis found.
Head injuries were only seen in the passengers under age 15, and these were often tied to collisions with the front seat head rest or the pillar supporting the window frame.
Spinal fractures were more common with high-speed crashes.
The study is too small to draw broad conclusions about crashes in the general population, the authors acknowledge. But because the study is focused on the body mechanics of seat belt injuries, the findings may still help pinpoint opportunities to improve safety, they conclude.
"Seat belts are very effective in reducing the risk of death and injury in crashes and anyone traveling in a car is much better protected in a rash if they are wearing a seat belt," Brown said. "The ultimate aim is to see optimized crash protection for restrained passengers who travel in the rear seat."
Ideally, seat belts should include webbing clamps that stop more of the belt from reeling out as it tightens on the spool, tension controls that pull the belt tight before the passenger starts to move, load limiters to manage the forces applied to the body in a crash, and warning systems to remind people to fasten belts that aren't buckled.
Consumers should also refrain from modifying belts or wearing them in a way they weren't designed to be used, such as skipping a chest strap to wear only the lap portion of the restraint, said Kristy Arbogast, co-director of the Center for Injury Research and Prevention at the Children's Hospital of Philadelphia.
"What consumers can do is to ensure the belt fits them correctly – the lap belt is low and snug on the hips, the shoulder crosses across the mid-chest and clavicle – and that they sit in an upright position against the seat back, no slouching," Arbogast, who wasn't involved in the study, said by email.
New features on the horizon such as inflatable or padded restraints may also improve safety and comfort, said Russell Griffin, an injury researcher at the University of Alabama at Birmingham Hospital who wasn't involved in the study said by email.
"Attention is needed for safety technology in the rear of vehicles," he said.
SOURCE: http://bit.ly/22N523c Injury Prevention, online December 9, 2015.
Published by Medicaldaily.com