Why Logging On May Be Turning You Off: 20 Percent of People Use Smartphones To Call Or Text During Sex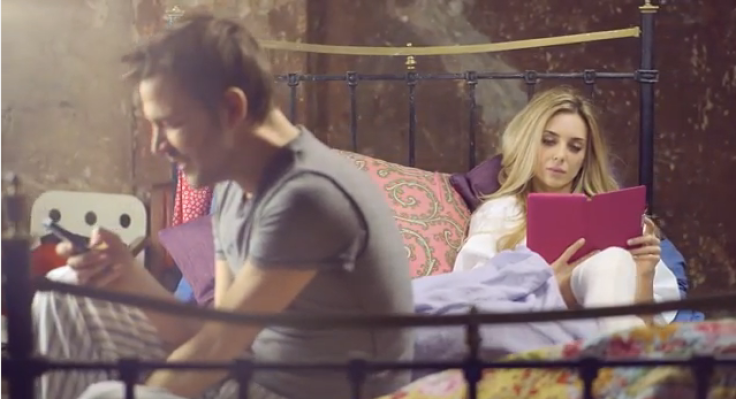 Too often, many couples are spotted sitting side by side cozying up, but with a third party: a smartphone. Although social media websites have connected people from all over the world, ironically, it has been drifting couples apart, especially in the most intimate act of all — sex. To celebrate Earth Hour on March 29, Durex, the condom brand, has released a short film which portrays the stories of several couples who have become seduced by the lure of a screen, rather than their partner.
Earth Hour, an annual event organized by charity World Wildlife Fund (WWF), encourages people around the world to turn off their lights for one hour to celebrate their commitment to saving the planet. Durex took this commitment a step further and proposed the best way to save energy and be in the dark is heating things up between the sheets. The video comes as a response to a recent poll conducted by Durex in the UK that found 60 percent of men and women spend more time using technology while in bed with their partner than having sex.
The poll, which surveyed 2,000 men and women, revealed when it comes to engaging in sex, 15 percent of women and 17 percent of men admitted to answering their phone or reading a text message during sex — this reached 20 percent in London. Moreover, five percent of respondents admitted to checking Facebook during sex, becoming more intrigued by a Facebook "poke." Overall, about half of the men and women agreed or strongly agreed that technology has had a negative effect on their relationship.
"Durex believes nothing should get in the way of great sex but our growing obsession with phones, laptops, TVs and Tablets isn't bringing us closer together, it's pushing us apart," said Ukonwa Ojo, Durex's global marketing manager, the Daily Mail reported. This Earth Hour 2014, unplug from technology, and plug into a hot, intense session between you and your partner in the sheets. It's time to get busy, and turn off to turn on.
Published by Medicaldaily.com