Wife of China's Top Animal Trainer Reveals Secret to His Success: She Breastfeeds Her Husband's Monkeys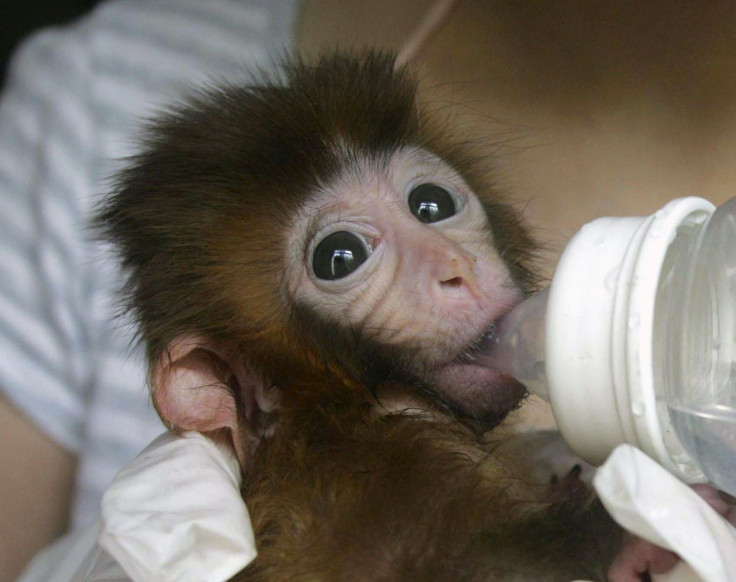 The wife of one of China's top monkey trainers has revealed what she believes to be the key to his success: she breastfeeds his student monkeys to keep them happy.
Jiao Xinzhen exposed her strange method during interviews to promote her husband Huang Aiqing's monkey school in Nanyang, Henan province, located in Central China.
"Many times, some of the baby monkeys slip onto our bed at night to suck my breasts," the 27-year-old woman said, according to The Sun. "I feel like they are just like my children."
Her husband Huang, 34, has quickly become one of China's top monkey trainers and supplies young apes for work in movies, circuses, theaters and street performances.
The monkey-loving couple has even adopted a monkey as their second child and playmate for their human son Ti.
"In this house the monkeys are king," Huang said, according to the UK newspaper.
"When I see him playing with my son I can see how close we are to them and they are to us and I'm pleased my boy has such a good playmate," the monkey trainer added.
This isn't the first time this bizarre form of breastfeeding has made headlines.
In October, a 44-year-old mother revealed that she breastfed her daughter's pet pug to make her feel like a better mom.
She told reporters that while people might call her a "freak," she felt like breastfeeding nourishes her dog and makes her feel like a better mother.
"I'm finally getting the breastfeeding experience I missed out on with the children," Terri Graham, a California native, told Closer magazine. "Having Spider suckle on my boob means I finally feel complete and a better mother."
What's more, Graham isn't the first to admit breastfeeding her pets.
A British woman named Suzanna Morgan said that she started breastfeeding her dog after the time she gave her dog a bottle of breast milk she had pumped for her infant daughter because there was no dog food left in the house.
"'What's the worst that can happen?' I said, grabbing one of the bottles and pouring it in her bowl. Dixie sniffed her bowl, and in no time at all, she'd lapped it up. I started to wonder," Morgan said according to Inquisitr.com.
"Was I the only one who fed breast milk to a dog? I got on the internet, and within minutes I'd found no end of women who'd breastfed dogs, cats, even pigs. A lot of them didn't just pour the milk into their pet's bowls, they let them suckle at their breasts, too," she said.
Published by Medicaldaily.com